These 22 Conservatives Will Meet With Janet Yellen on Friday
After two months, activists get a sit-down with the Fed.
by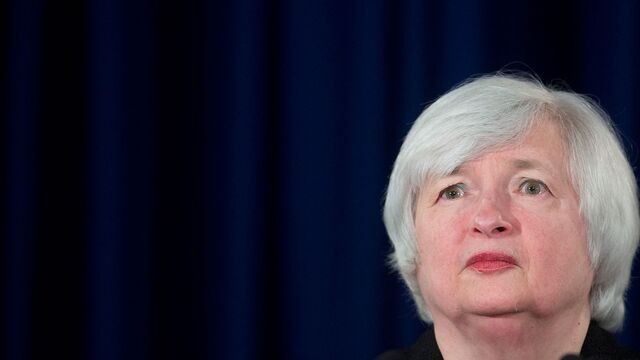 Two months ago, after learning that Fed Chair Janet Yellen had met with progressives, a group of conservatives started demanding a sit-down of their own. "The left has met with Janet Yellen in an effort to influence monetary policy," thundered Steve Lonegan, a two-time candidate for governor of New Jersey (and one-time candidate for Senate, and for Congress), who now directs monetary policy at American Principles in Action. "Conservatives cannot sit back and allow liberals to have sole voice with the Federal Reserve System."
After some backroom wrangling, the conservatives got their meeting. It will occur at the end of a week of Yellen testimony in Congress, while scores of conservative leaders are gathered at CPAC, a drive down the road from Washington. "Conservatives finally get a meeting with Yellen, and it happens at 3 p.m. on a Friday," snarked American Commitment President Phil Kerpen, while waiting between events at CPAC.
The list of invited conservatives:
Sean Fieler, president of American Principles in Action (APIA)
Steve Lonegan, director of monetary policy at APIA
Ralph Benko, economic advisor at APIA
John Allison, Cato Institute president
Steve Moore, chief economist at the Heritage Foundation
Peter Sepp, president of the National Taxpayers Union
Sue Ann Penna, president of Citizens for Limited Government
Norbert Michel, Heritage Foundation economist
Judy Shelton, Atlas Network economist
Brian Domitrovic, history professor, Sam Houston University
Marc Miles, economist at Global Economic Solutions
Phil Kerpen, president of American Commitment
Jim Martin, chairman of the 60 Plus Association
Deneen Borelli, outreach director at FreedomWorks
Rich Lowrie, senior advisor at Put Growth First
Matthew DeVries, chairman of Liberty Iowa
Jiesi Zhao, director of the center for entrepreneurship at the Young America's Foundation
Liberty Iowa had just sponsored a week of rallies and panels in Iowa to support Rand Paul's legislation for a Fed audit and more congressional oversight; Lonegan had joined several of those stops. Lowrie is perhaps best known as the designer of Herman Cain's 9-9-9 tax plan, from his 2012 presidential bid. The economists and activists will be joined by five people with no leadership in any conservative groups: Colette Balaam, Ellen Barrosse, Selina Stinson, Varditra Reid (identified by APIA as a "working single woman"), and Herman Jung.
Before it's here, it's on the Bloomberg Terminal.
LEARN MORE