Ted Cruz Argues He Is the True Conservative at CPAC
The Texas Senator had no difficulty in answering Sean Hannity's question, "Why does Ted Cruz love America?"
by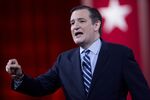 Texas Senator Ted Cruz positioned himself as the true conservative in the Republican presidential field, telling party activists gathered in Washington that he's proved his commitment to the cause by going up against the White House, and even members of his own party in Congress.
"We all know that in a campaign every candidate comes up and tells you, 'I'm the most conservative guy that ever lived,'" Cruz said Thursday. "Actions speak far far louder than words. We need to look to people who walk the walk and not just talk the talk."
Cruz, who lags in most presidential polling, encouraged CPAC attendees to  "demand action, not talk" from the crowded 2016 field—a not-so-subtle dig at frontrunner former Florida Governor Jeb Bush, who's faced criticism for his more moderate stances on education and immigration. "When have you stood up and fought?" Cruz asked of Bush and his other would-be opponents, without mentioning them by name.
Republican leaders have struggled to control the firebrand Cruz, who has frequently used congressional procedure to hold up legislation in the Senate. Many of his Republican colleagues still blame him for the 2013 government shutdown after Cruz linked the funding to the health care bill.
At CPAC, Cruz stridently defended his actions, casting himself as both a sitting senator and Washington outsider all while getting in a dig at the Democratic frontrunner. "Hillary Clinton embodies the corruption of Washington," he said. "We need to run a populist campaign standing for hard-working men and women."
After speaking, Cruz took a series of softball questions from Fox News host Sean Hannity. (Sample: "Why does Ted Cruz love America?" Answer: "The country is greatest country in the history of the world.") As the two joked on stage, Hannity delivered an impression of President Bill Clinton hitting on a young woman in the audience.  When asked for a few words to describe Clinton, Cruz replied "youth outreach." 
Cruz expressed his support for marijuana legalization in Colorado, confirmed that he is, indeed, an American citizen, and compared himself to the online taxi company Uber. 
"What I'm trying to do more than anything else is bring  a disruptive path to politics," he said. "In both parties, they fight vigorously because they don't want the power to be back with the American people."
Before it's here, it's on the Bloomberg Terminal.
LEARN MORE