Scott Walker Declares Presidential Bona Fides: Made in Wisconsin
The governor touts a conservative record in a state that generally doesn't go Republican.
by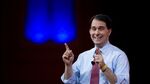 Wisconsin Governor Scott Walker made a passionate case for his potential presidential bid on Thursday, casting himself as a conservative warrior able to win competitive races. 
Bookended by standing ovations from attendees at the Conservative Political Action Conference, Walker described Wisconsin under his tenure as a conservative paradise where unions have been busted, property taxes lowered, test scores raised, anti-abortion legislation passed, and concealed-carry laws passed. "If we can do it in Wisconsin, there's no doubt we can do it across the rest of America," he said.
His case also extended to foreign policy. During the question-and-answer portion of his appearance, he cited his successful fight against public unions in Wisconsin as evidence that he could handle the ISIS threat. "If I can take on 100,000 protesters, I can do the same across the world," he said. 
Despite a reputation as a poor public speaker, Walker has risen in the polls in recent weeks following a well-received appearance at last month's Iowa Freedom Summit. in Iowa.  He seemed to score again with another poised performance on Thursday, leaving the stage to shouts of "Run Scott Run."
"I did run in track," he quipped. "And I've been running three times in the last four years so I'm pretty used to it."
Walker's trifecta of wins–in two gubernatorial races and a recall–was a key piece of the argument he made to activists, test-driving a stump speech that wove together his anti-union actions with socially conservative policies that will "take the power out of Washington." 
"We won Wisconsin, a state that hasn't gone Republican for president since 1984," he said. "You know how we did it? We did it without compromising."
Before it's here, it's on the Bloomberg Terminal.
LEARN MORE