Jindal to Congressional GOP: 'Grow a Spine'
But the Louisiana governor reserves his toughest talk for Barack Obama.
by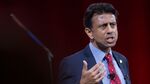 Louisiana Governor Bobby Jindal isn't happy with some of his fellow Republicans in Washington, he made clear Thursday. "It is time for our Republican leaders in Congress to grow a spine," he said at the Conservative Political Action Conference, pushing legislators to do more to resist President Barack Obama's immigration policies. "It's time for them to do the job we elected them to do."
Jindal voiced a similar frustration with GOP lawmakers over their failure to beat back the Affordable Care Act. "This troubles me greatly: at the same time that the Republicans in Washington are about to wave the white flag of surrender on amnesty, they're about to wave the white flag of surrender on repealing Obamacare," he said. "And I'm here to tell you, we've got to tell them we won't stand for that." 
"It is time for them to govern the way they campaigned and to get rid of Obamacare. We don't need Obamacare lite," he continued. "We don't need a second Democratic party. We don't need the cheaper liberal Democrats. We need to be principled, conservative Republicans."
Jindal also reminded conservatives of his shift on Common Core, from supporting Louisiana's bid for Race to the Top funds to suing Education Secretary Arne Duncan. "We need to remove Common Core from every classroom in America," he said. 
He also hammered at Obama for not having a more defined strategy to fight ISIS and for not declaring war on radical Islam. "President Obama has disqualified himself, has showed him unqualified to be our commander in chief," he said. "We've got a president who won't even name the opponent we face."
Before it's here, it's on the Bloomberg Terminal.
LEARN MORE