From Metallica to Kelly Clarkson: The Sounds of CPAC
Here's the playlist from the first day of CPAC 2015.
by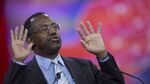 Nothing energizes a crowd and sets the right mood like the perfect walkup music. This year's Conservative Political Action Conference featured some classic conservative selections (i.e. country music) and a few surprises.
Highlights from the first day at CPAC included former Hewlett-Packard CEO Carly Fiorina's use of Pharrell's "Happy" and Senator Mike Lee's choice of Bon Jovi's "Livin' on a Prayer."
The curve ball of the day might have been New Jersey Governor Chris Christie, who chose Metallica's "Enter Sandman." It's a bit of a departure from his beloved Bruce Springsteen (though there's certainly some fan overlap). The song was, for years, the walkup music for former Yankees closer Mariano Rivera. Christie's a Mets fan. 
Here's what's been spinning for whom over the first half of CPAC 2015:
Ben Carson - "Life is a Highway," Rascal Flatts (cover)
Senator Mike Lee - "Livin' on a Prayer," Bon Jovi
Reclaiming the American Dream: Millennials Look Toward Their Future (panel) - "Heartbeat Song," Kelly Clarkson
What's Next for Common Core (panel) - "Centuries," Fallout Boy
The Conservative Replacement for Obamacare (panel) - "Radioactive," Imagine Dragons
Beyond the Expected: Broadening the Conservative Base (panel) - "Wake Me Up," Avicii
Oliver North (Salute to Veterans) - "American Soldier," Toby Keith 
Chris Christie - "Enter Sandman," Metallica 
Carly Fiorina - "Happy," Pharell
Ted Cruz - "Wave on Wave," Pat Green 
Before it's here, it's on the Bloomberg Terminal.
LEARN MORE