Free Pins, Liberty Purses, and Government Waste Robots: The CPAC Exhibit Floor
The highlights of the annual conservative gathering's merchandise and free stuff.
by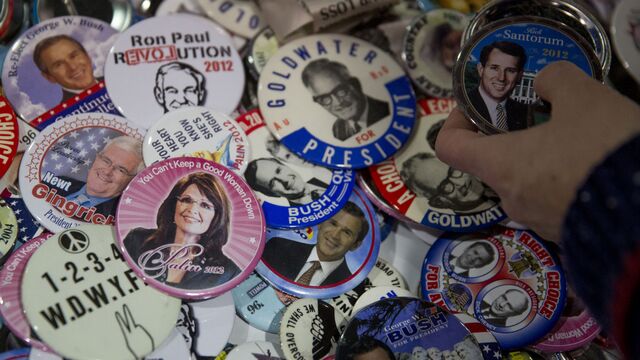 If you're willing to pay just under $400, you can buy a leather purse with the Constitution written in the lining on the exhibition floor of the Conservative Political Action Committee conference.
"Every handbag we sell has a pocket Constitution included with it, because we believe that our constitutionally protected liberties are the foundation of every good thing that we enjoy as Americans," Sylvia Noster, the designer of the bags said in front of her stall, a few feet away from a poster featuring a topless model with the Constitution tattooed on her back. (Noster, who was inspired by a sense the "Constitution's being shredded, right before our very eyes," has three different collections of bags: love, liberty, and faith.)
The CPAC exhibition floor is about marketing, and advertising to conservatives is the same as marketing to anyone else: everything has to be unique, free, or superhero-themed. 
On the free stuff front, there are dozens of buttons, posters (including one celebrating the day President Obama leaves office), pens, steel water bottles, and other knick knacks people want more than need. The libertarian group Young Americans for Liberty gave out free "Stand with Rand" t-shirts to anyone who filled out a political philosophy form, with questions like "There should be no restrictions against law-abiding citizens owning firearms." Each response (agree, maybe, and disagree) comes with a score, and the higher the score, the closer the attendee's political philosophy is to Ronald Reagan.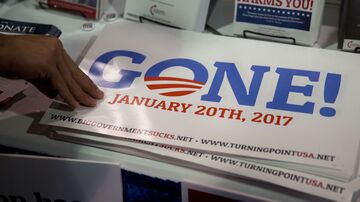 The flashiest stall belonged to How Money Walks, a groups that argues that—by comparing IRS and Census data—migration patterns show that people, and their money, move to states with lower incomes taxes, and also fights government waste. The latter point was illustrated by GOVTRON, the group's human-sized robot modeled after the titular villain in the next Avengers movie.
The difference between Ultron and GovTron is that the latter is "100% fuelled by government waste," armed with a red tape cannon and weapons seized from Eric Holder's Fast and Furious program, according to the group's comic "The Reformers." 
The point of the comic is to get people to the group's website to see how the story ends, and if anyone cares about how Captain Personal Freedom and his friends fare against GOVTRON's liberal vision, it's the crowd at CPAC.
Before it's here, it's on the Bloomberg Terminal.
LEARN MORE