Why Tim Kaine's Decision to Skip Netanyahu's Speech Could Resonate for Years
Virginia's senator takes a rare, progressive-friendly position on Israel.
by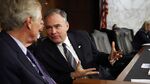 Virginia Senator Tim Kaine has joined the Democrats who'll skip Israeli Prime Minister Benjamin Netanyahu's March speech to a joint session of Congress. "There is no reason to schedule this speech before Israeli voters go to the polls on March 17 and choose their own leadership," Kaine said in a statement, after describing how he'd worked to delay the event. "I am disappointed that, as of now, the speech has not been postponed. For this reason, I will not attend the speech."
Even by this story's standards, the Kaine move was a Rod Serling twist. Before today, only three other senators had announced that they'd skip the speech—Vermont Senator Bernie Sanders and his colleague Pat Leahy, and Hawaii Senator Brian Schatz. Other senators, asked in hallways or through press offices, had demurred, promised they were thinking about it, or (in the case of New York Senator Chuck Schumer) politely suggested everyone should go. The bulk of boycotting Democrats come from blue states and blue districts, many of them from gerrymandered majority-minority seats. Kaine has won two single-digit statewide victories in a state that, until 2008, voted reliably Republican for president.
Why does it matter? Democrats frequently cite Kaine as a strong contender to fill out the party's 2016 presidential ticket. In a conversation just this week, one Democratic congressman from a red state brought up Kaine with no prompting, pointing out that he'd 1) won in a purple state, 2) spoke fluent Spanish, 3) was Catholic, and 4) if elected, would be replaced by the pick of Democratic Governor Terry McAuliffe. (That would be a major advantage over a pick like Ohio Senator Sherrod Brown; if elected to the vice presidency, he'd give Republican Governor John Kasich the chance to replace him.)
The Democrats talking up Kaine expect, like most people, for the Democratic ticket to be led by former Secretary of State Hillary Clinton. As quiet as the anti-war movement has grown since 2008, Clinton still has problems on that flank. Libertarian-leaning Republicans like Kentucky Senator Rand Paul have called her a hawk, someone who'd alienate young Democrats.
So: Kaine, high up there in the veepstakes, had already taken a lead role in writing a new Authorization of Military Force to define and restrict action in Iraq. He's now breaking from most of the nervous Democrats and skipping the Netanyahu speech. He's hardly doing it to angle for 2016, but the party's left is going to remember this.
CORRECTION: An earlier version of this story incorrectly stated the number of senators who'd previously said they'd skip the speech.
Before it's here, it's on the Bloomberg Terminal.
LEARN MORE