Report: State Department Ethics Reviews Gave Bill Clinton Frequent Green Lights
The Department, which had agreed to examine Bill's business dealings during Hillary's tenure, almost always gave approval.
by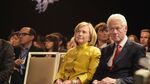 During Hillary Clinton's tenure as secretary of state, ethics monitors at the State Department almost always approved lucrative speeches and long-term consulting jobs for Bill Clinton with few questions, even though they sometimes struggled to determine basic facts about the arrangements, according to a new report in Politico.
The report,  based on government responses to Freedom of Information Act requests, cites one of the few proposals that was scuttled: a videotaped speech for a gala that appeared to be funded by a Chinese sports foundation. The proposal raised flags at the Department because of the foundation's links to the Chinese government. 
The details emerge as Hillary Clinton, who is almost certain to announce a presidential run, faces questions about the propriety of donations from foreign governments to the family's Clinton Foundation. Her campaign has said it will monitor such donations if she runs.
Representatives for the State Department and Clinton Foundation both said that the documents reveal broader disclosures than those required by law. "In several respects, Secretary Clinton's commitments went beyond the requirements of applicable laws and regulations," State Department spokesman Alec Gerlach said, according to the article.
The Department agreed to vet the former president's dealings as part of a deal to speed Hillary Clinton's nomination for secretary of state. The agreement did not give the State Department oversight on donations to the foundation.
Before it's here, it's on the Bloomberg Terminal.
LEARN MORE