Elizabeth Warren Starts a New Project, But Few Take Notice
The senator launches the Middle Class Prosperity Project with Maryland Representative Elijah Cummings.
by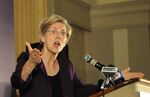 On Tuesday afternoon, only 91 people were watching Senator Elizabeth Warren's live stream on YouTube when she asked Jared Bernstein of the Center on Budget and Policy Priorities a pointed question about retirement and savings. That's not many viewers, nor was it the sexiest subject. But Warren, wearing a forceful and perhaps symbolic purple while presiding over the first congressional forum of her Middle Class Prosperity Project, doesn't seem to mind. She's comfortable being far from the action. 
In fact, Warren's latest project, announced jointly with Representative Elijah Cummings, a Democrat of Maryland, on MSNBC's "Morning Joe" Tuesday morning, is all about getting as far away as possible from the D.C. corridors of power.
Congress's priorities are turned around, Warren said. "First they wanted to spend weeks passing a pipeline that principally benefit some foreign oil company, and now they want to spend a month on shutting down Homeland Security at a time when we face terrorist threats." (The day she spoke on "Morning Joe," President Obama vetoed Republican legislation that would allow the Keystone XL pipeline to be built—as everyone expected he would—and Senate Majority Leader Mitch McConnell said that Senate Republicans would fund the DHS, despite their party's displeasure with the president's immigration strategy.)
All this energy, all these hours of late-night debate, and for what? "What we're trying to do is get some focus on what's happening to America's working people," Warren continued, "what's happening to the middle-class. And to remind people that the middle-class is in trouble because of deliberate policy choices made in Washington."
Hours later, Warren and Cummings  published an op-ed in USA Today laying out a project that, in their words, intends to "give a voice in Washington to those who need it most—hard-working people across this country." The lawmakers wrote of the "progressive policies" that Congress enacted after the Great Depression, "to build and expand the middle class." Unfortunately, they said, Washington has let corporations and lobbyists corrupt it, take it captive. They wrote, "It's time to change that system."
In their op-ed, Warren and Cummings announced a series of congressional forums they would be holding, "to examine economic policies threatening the middle class, and we'll hear from leading economists about how to help families rebuild economic security." Just after their article was published, the first such forum began, with Dr. Bernstein, Senior Fellow at the Center on Budget and Policy Priorities: Dr. Beth Ann Bovino, U.S. Chief Economist at Standard & Poor's Rating Services; Dr. Gerald Jaynes, Professor of Economics and African American Studies at Yale University; and Dr. Joseph E. Stiglitz, University Professor at Columbia University. 
As Warren got to quizzing Bernstein, few seemed riveted. The room was all planks of wood and people in suits, perhaps occupied with dread before a frigid commute. But Warren spoke with calm and with ardor. In her question about retirement, she brought up an initiative Obama had announced the day prior, in his speech to the AARP, a plan to protect retirement savings through tighter regulations. 
Bernstein may have appeared as something of an ally. But even those less inclined to defend Warren doubtless knew that, at the president's appearance before the AARP, she was the person seated on the stage behind him, looking on. Such is Warren's power, this role that she's carved out for herself, whether presidential candidate or not: lender-of-advice to Hillary, careful watchdog of Barack, the holder of the Democratic party. They all know that her disapproval matters.
Before it's here, it's on the Bloomberg Terminal.
LEARN MORE