Chicago Voters School Rahm Emanuel
Tim Jones and Elizabeth Campbell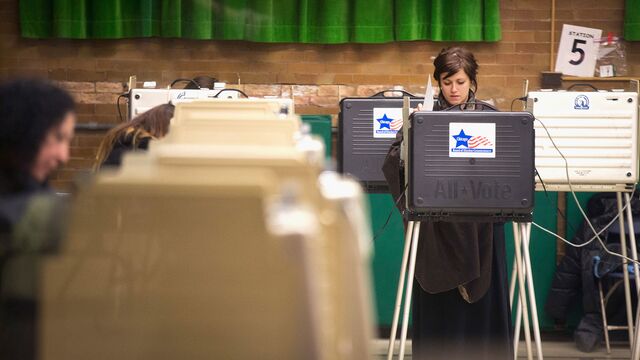 Chicago voters usually get just one chance to express their preference for mayor because the incumbent almost always rolls to a big victory in February. Not this time.
With the city facing the prospect of insolvency and Mayor Rahm Emanuel failing to win a majority in Tuesday's nonpartisan election, voters will choose on April 7 between a blunt, sometimes abrasive first-term incumbent and a populist who says he speaks for the disenfranchised.
Emanuel's opponent, Jesus "Chuy" Garcia, was a little-known Cook County commissioner until he was recruited to run by Karen Lewis, the mayor's political nemesis who clashed with him in a 2012 school strike. Garcia became the proxy for angry educators (and voters) relishing a run by Lewis, who chose not to seek office after being diagnosed with cancer.
"We're going to round two -- you get to take a closer look at us," Garcia said as he shook the hands of commuters exiting a downtown train station's turnstiles on Wednesday. "I think it's a referendum on this administration's engagement or lack thereof of ordinary people in the neighborhood. I think people feel ignored."
The first head-to-head runoff since the city went to nonpartisan elections in 1999 is poised to focus on the cost, both political and financial, of fixing Chicago's financial crisis. Voters will be asked to decide which candidate is better suited to deal with under-funded pensions, dozens of shuttered public schools and demand for police officers to deal with persistent violent crime, most of it in minority neighborhoods.
'Clear Choice'
"It's a clear choice between two different visions of the future and how to get there," Emanuel, 55, told reporters after shaking hands with a group of about 40 residents at a South Side senior center. "We have to look our challenges straight in the eye, meet them head-on, be honest and forthright with people."
Emanuel closed 50 public schools in 2013, which hurt his political support in black neighborhoods, many of whose residents worried their children would have to cross gang turf to get to their new classrooms. Garcia, 58, has called the mayor's decision a disaster and has pledged to try to undo the damage to students and neighborhoods, without calling for a reopening of the schools.
"Right now, our city is divided -- divided by neighborhood, race and class," said Greg Kelley, 46, a vice president for a health-care union and a Garcia supporter who is black. "In order to tackle the big problems, the deficit, the crime, we need to bring the city together."
Finding Solutions
To beat Emanuel, Garcia must persuade voters that he can not only unify citizens but craft a financially feasible solution to the city's pension and budget mess.
"It's up to Emanuel to press Garcia where the money will come from, since the board of education and the city of Chicago face financial disaster," said Paul Green, professor of public administration at Roosevelt University.
The third most-populous U.S. city has $20 billion in unfunded pension liabilities. With an eye on that, Moody's Investors Service dropped Chicago's rating three levels in July 2013, an unprecedented cut for a city of its size.
Emanuel, a former congressman and White House chief of staff under President Barack Obama, spent about $7 million on TV ads. They appeared to do little to generate voter interest. Turnout was 33 percent with some precincts still uncounted, according to preliminary election board data. The record low for a mayoral election was 33.08 percent in 2007.
Emanuel Setback
With 99 percent of precincts reporting, Emanuel had 45.4 percent and Garcia 33.9 percent, according to the Chicago Board of Election Commissioners.
The mayor, a skilled political tactician and prodigious fundraiser who's also known for his temper, has triumphs to tout. Chicago celebrated the recruiting of at least 30 corporate headquarters in the past four years, and Emanuel began a program providing free community college for public-school students with at least a 3.0 grade point average.
The 2013 school closings came a year after a rancorous teacher strike, the first in the city in 25 years. The event vaulted Lewis, the Chicago Teachers Union president, to political prominence.
Schools remain a sore point. While the mayor effectively runs the school system, appointing members to the Chicago Board of Education, voters on Tuesday overwhelmingly approved an advisory referendum calling for them to be elected.
The Board of Education has about $6 billion of municipal bonds outstanding, data compiled by Bloomberg show. Like the city, it has a rating of Baa1 from Moody's Investors Service, three steps above junk.
Divided Market
The district is "in the midst of a grave and ongoing fiscal crisis," the Civic Federation, a Chicago-based nonprofit research group, wrote in a 2014 report.
As the board's bond rating dropped last year, investors exchanged its benchmark debt more frequently than all but 12 bonds nationwide, according to the Municipal Securities Rulemaking Board. Board of Education bonds were the most traded of any Illinois debt Wednesday.
Such trading can signify that the market is divided about the borrower's fiscal health.
Emanuel reminded voters he didn't raise property, gasoline or sales taxes during his first term. No such pledges have been made for the next four years. The city is obligated to pay $600 million into four pension funds in next year's budget, and a boost in the property-tax levy hasn't been ruled out to make that happen.
"I figured he's doing the best he can," said Mary Ellen Baldwin, 82, who lives at the South Side senior center that Emanuel visited on Wednesday. "It's a big city and he can't please everybody. You can't."
Before it's here, it's on the Bloomberg Terminal.
LEARN MORE