Pantsuits Aside, Diane von Furstenberg Is Ready for Hillary
The fashion icon says calls the former secretary of state a "formidable woman."
by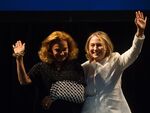 SANTA CLARA, Calif. – Fashion icon Diane von Furstenberg wants Hillary Clinton to be president and has no complaints about the former secretary of state's style, even if it doesn't include the classic DVF wrap dress.
"I hope that Hillary runs and I hope that she becomes president," von Furstenberg said in an interview at the Lead On Watermark Silicon Valley Conference for Women, wearing sunglasses and one of her signature dresses. "If Hillary is running I will definitely be helping her."
Von Furstenberg, 68, is member of the board of the Clinton-founded Vital Voices, a stalwart Democratic donor and a longtime Clinton loyalist. She shifted her support to Barack Obama after Clinton lost the Democratic primary, but her admiration for Clinton never faded.
"I think she is a very attractive woman. I think she has beautiful skin, beautiful smile, beautiful eyes," von Furstenberg said. "She's a woman of substance, you know, and how can you judge her hair and her clothes when she goes on—as secretary of state she goes on all the time? I mean, nobody would do that to a man. I mean, what is that? She has a wonderful sense of fashion for herself. She has a wonderful sense of the woman that she is and it's all about the substance and it's all about the honesty and it's all about the truth."
During her 2008 presidential bid and her time in the State Department, Clinton relied on oft-mocked pantsuits, which aren't a part of von Furstenberg's fashion vocabulary.
Still, the designer approves. "She likes it. It's comfortable to her and that's all that matters," she said. "I love her. She's a wonderful, formidable woman. She gets better, better with age."
And her advice to other women in politics who may struggle with balancing style and seriousness is to follow Clinton's lead.
"I think that they should just be true to themselves. Be their style and whatever they are and it's the substance. Take advantage of it—you can have a color," she said. "[Men] can't have a color. So use that. Use it as an advantage instead of a handicap."
Before it's here, it's on the Bloomberg Terminal.
LEARN MORE