Oscars in the Time of Microaggression
Sean Penn's Oscar "gaffe" and the changing politics of the left.
by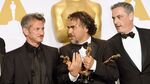 Sean Penn opened the "Best Picture" envelope, and there it was—an old friend's name. Alejandro González Iñárritu, who'd directed Penn in 2003's 21 Grams, was taking the prize for the jazzy, absorbing midlife-crisis drama Birdman.
"Who gave this son of a bitch a green card?" asked Penn, through a smile.
The Mexican director wasn't offended in the least. "Sean and I have that kind of brutal (relationship) where only true friendship can survive," he told the Associated Press. Why was he being asked? Because the joke had cheesed off lots of people on Twitter, where taste is made. (Birdman's script has got to be the first Oscar-winner that mentions Twitter.) From a journalist at the millennial-centric Fusion:
From Saved by the Bell actor Mario Lopez:
From Upworthy curator Andrea Garcia-Vargas:
From journalist and immigration-rights activist Jose Antonio Vargas:
And so on. Over at New York, Jonathan Chait has followed up his Internet-melting essay about political correctness with a cheeky listicle of the "10 Angriest Reactions to Things Actors Said at the Oscars." Most of the webby anger at the Oscars has actually focused on Patricia Arquette's Best Supporting Actress speech, which in the space of a couple hours went from .gif-making gold to an aggression against people of color. After her standard press conference, after Arquette suggested that "all the men that love women and all the gay people and all the people of color that we've all fought for" owed something to women, Arquette was pilloried with such force that she had to clean it up with—naturally—a tweet.
Penn's joke, which capped off the night, was a natural framing device for Oscar "hot takes." But it clearly wasn't a gaffe or an insult. Some journalists, like some movie-makers, get visas to work in the United States. Like Penn and Iñárritu, they can joke about it. Faux outrage at someone "taking your job" is just that—fake, faux, in jest.
"My friends have made similar jokes about me in good fun," says Sahil Kapur, a reporter from Talking Points Memo who immigrated to the United States from India. "Sean Penn's quip might have felt random but I didn't assume it was out of hostility. I wasn't offended."
The argument from the Twitter swarms was that because some people might have been offended, the joke should never have been made. It capped off a month and change of Oscar talk limned by politics. There was the (very justified) anger of Selma fans who'd watched their movie get largely sidelined by protests from veterans of the LBJ administration. There was the campaign for The Imitation Game, which Miramax tied to the British effort to win pardons for people penalized under old anti-homosexuality laws. There was the confused war over American Sniper, which was directed and played by critics of the Iraq War but was embraced by conservatives as a patriotic hit—as proof that Hollywood was leaving money on the table by not making more pro-war movies.
As Alyssa Rosenberg writes in the Washington Post, Penn had spent years on all the right progressive causes. Just six years ago, he hoisted an Oscar for Best Actor for his eponymous performance in the Harvey Milk biopic Milk. "I think that it is a good time for those who voted for the ban against gay marriage to sit and reflect and anticipate their great shame and the shame in their grandchildren's eyes if they continue that way of support," he said at the time, from the same stage where he'd later be accused of petty racism. "I'm very, very proud to live in a country that is willing to elect an elegant man president."
According to Rosenberg, Hollywood's self-congratulation fools it out of realizing its real-time problems with diversity. "People of color, women, lesbian, gay, bisexual and transgender (LGBT) people, people with disabilities and members of various faiths and classes are marginalized on-screen and shut out of jobs behind the camera," she writes. "The antiwar and civil libertarian sentiments of individual artists don't prevent Hollywood at large from lionizing the military and intelligence services. If liberals won the culture wars, the peace settlement wasn't exactly overwhelming."
Conservatives' attacks on the Oscars were mostly limited to hypocrisy charges at Arquette and an oh-of-course gripe that American Sniper lost Best Picture. The hyperactive conversation of Twitter, which entertainment reporters picked up all day Sunday and Monday, was far more likely to earn a response—as Arquette showed in real time. The celebrities who knew best would adapt to the left's critique. Being an "ally" means always saying you're sorry.
The final irony of all this? A documentary that lionized NSA whistleblower Edward Snowden got an Oscar, and it was one of the least controversial moments of the night. The controversy came when Neil Patrick Harris joked about Snowden being unable to accept the award "for some treason."
"I thought it was pretty pitiful, given Hollywood's fondness for congratulating itself for doing things like standing up for McCarthyism and blacklists," said the film's co-star, journalist Glenn Greenwald, to BuzzFeed.
CORRECTION: An earlier version of this story incorrectly spelled Neil Patrick Harris' first name and should have quoted him as saying "for some treason."
Before it's here, it's on the Bloomberg Terminal.
LEARN MORE