Lights, Camera, Action Ahead of Christie Budget Address
The governor is warning that it's crunch time at the New Jersey Statehouse.
by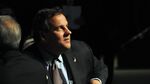 Cue the action-movie theme and the slow-motion explosions. Chris Christie is out with another video ahead of his New Jersey budget address Tuesday afternoon.
The second-term Republican governor, whose unscripted YouTube confrontations with hapless constituents made him a national figure, warns viewers with big bold white letters that it's crunch time at the New Jersey Statehouse.
"Now is the time," according to the trailer, which then flashes the hashtag #ForOurFuture.
The 16-second video shows the Assembly chambers in Trenton, where Christie, a possible presidential candidate, will deliver his speech before the legislature. He'll present a spending plan that would send only $1.3 billion to New Jersey's government-employee pensions, less than half the $2.9 billion it needs.
The budget address comes a day after a judge ruled that pension cuts Christie made to balance this year's spending plan violate state law. 
Democrats, who control both houses, have refused to negotiate pension changes after Christie reneged on a promise to make bigger payments into the retirement system.
Before it's here, it's on the Bloomberg Terminal.
LEARN MORE