Hugh Hewitt Details What He Won't Ask Republicans at His Presidential Debate
The king of conservative interviewing talks about his vision for 2016.
by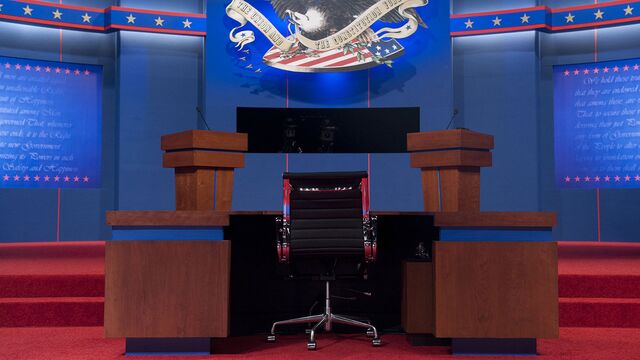 Ever since Mitt Romney's 2012 defeat, Republican National Committee Chairman Reince Priebus has promised to protect future candidates from the "circus" of embarrassing presidential debates. At its last meeting, the RNC made good on this by announcing a smaller number of sanctioned debates—none of them moderated by the forward-leaning progressive hosts of MSNBC. Today, radio host Hugh Hewitt was announced as the lead voice (not the moderator, but the asker of questions) at a September 16 debate hosted by CNN.
Conservatives greeted the news with a mixture of joy and euphoria. Hewitt's one of the sharpest interviewers in politics, period, a maestro of opening questions that stop guests short and of Socratic follow-ups that weaken their talking points. Just last month, he eviscerated Catholic League founder Bill Donohue over the self-appointed morality czar's criticism of Charlie Hebdo. Last year, after a Huffington Post economics reporter wrote a critical item on Dick Cheney, Hewitt pop-quizzed him with questions about Lawrence Wright and Alger Hiss.
Some of the best, newsiest interviews with politicos happen when the interviewers are ideologically aligned. Hewitt, for example, sometimes gives Republican guests chances to litigate the coverage they've gotten in other media. In 1989, as the executive director of the Richard Nixon Presidential Library, Hewitt once attempted to limit access to anti-Nixon reporters. "I don't think we'd ever open the doors to Bob Woodward," he suggested—a suggestion that did not become deed.
Bloomberg Politics talked with Hewitt this afternoon, over the phone from his California office.
Bloomberg Politics: How did this come together?
Hugh Hewitt: Well, until recently I've been lobbying to get Cleveland the convention. When that happened I started lobbying for a conservative journalist to ask questions at a debate. This is really all Reince Priebus's doing. Of all the things he's done, getting conservative journalists on the panels is probably his lasting legacy. Our issues are not the standard issues people hear about. The conservative primary voter has been frustrated with Republican debates for as long as I remember. They don't hear the questions asked that they want answered by people who want their votes.
BP: What's an example of that? Actually, what was a question in the 2012 cycle that you would never have asked, or thought it was wrong to ask?
HH: There wasn't one conservative in 2012 who wanted to make birth control inaccessible to women. Not one. Zero. And so when George Stephanopoulos asked about birth control in New Hampshire, I thought it summed up very nicely the problem with using even good journalists like him, a former Clinton operative. That question would never come from a conservative journalist. It's not a debate. It doesn't exist.
BP: You would not ask about birth control or abortion?
HH: It does not seem to be on my top shelf. All of them are pro-life; the fine gradiations on these positions seem to be generated by the MSM. I can't imagine I'd be asking questions from the mindset that those questions are important.
BP: Well, what would you ask that no one else has?
HH: One question would be about the status of our nuclear forces, which are in decline. People need to find out about the fact that all of our nuclear submarines are going to age out in the next 20 years, and we don't have a line item to replace them. I think that the number of aircraft carriers, the fact that former Secretary Hagel said we might need to go down to eight, is very stunning. I think Republican candidates ought to know well the peace through strength doctrine.
BP: Is there any candidate in the line-up that you've been unable to get on the show?
HH: No, everyone's come on. Jeb's coming on tomorrow. I usually ask what's in the headlines in the conservative media world, and the last time Governor Bush was on, I asked about common core for half an hour, so I won't do that again. Conservative audiences tell you what is on their mind. I'm not sure if leftist media ever figures out what's on the mind of the center-right voter, which is 45 percent of the country.
BP: But do you worry that Republicans might miss steps in the general election if they take just friendly questions in the primary? Certainly, a lot of Democrats are worried that Hillary Clinton won't face real questions from legitimate opponents, and that will weaken her. Is that a risk for Republicans?
HH: I think it would be a mistake if they only took questions from conservatives, but the glass jaw questions are more likely to come from conservatives. The toughest issue in this election right now, I can tell you—for Governor Bush, it'll be common core. For Senator Paul, it will be the size of the navy. They won't lack for training partners, but they'll be questions that interest the conservative electorate, not the beltway/Manhattan media elite.
BP: Will you limit the debate attendance list to people polling above a certain number?
HH: That's someone else's call. That's the RNC's call.
BP: Will you ask candidates if they think Alger Hiss was a communist spy, or whether they've read Lawrence Wright's The Looming Tower?
HH: Ha! No, I think that those are radio questions, designed for first-time guests. How'd you like yesterday's interview with David Corn?
BP: I didn't hear it. I have some good excuses for missing it but I should check it out.
HH: Well, Hiss came up a lot. I just love it so, as a question. It's just such a great Rorschach taste for liberals; always, always they say they don't have an opinion. Some day one of them will say "He was a Soviet spy, what's the big deal," and I'll fall out of my chair. It's like the evolution question for Scott Walker: Answer it and you inevitably antagonize someone with whom you have dinner often. That's the kind of question it is. If you say he was a Soviet spy, someone in New York won't talk to you. If you say he wasn't, you're a moron. So they all say, "Oh, I haven't studied it." With David Corn I brought the Verona transcripts, which didn't come out until 1995! That was when he hung up on me.
BP: Would you ask the candidates if they believe in evolution, or if they think Obama's a Christian?
HH: I don't rule out anything, but my interests are in America's position in the world. We're in a really tough spot right now. And wherever I go, Common Core comes up.
BP: But do you think there's any utility in asking a candidate if he believes in evolution?
HH: No, I don't. I don't believe in asking about personal belief. It's so antithetical to the founding. We're not supposed to do that. It's good for reporters generally to avoid the "Nobody Expects the Spanish Inquisition" stuff.
Before it's here, it's on the Bloomberg Terminal.
LEARN MORE