Former Los Angeles Mayor Villaraigosa Won't Run for Senate in 2016
The former mayor says he wants to focus on making California a better place to live, work, and raise a family.
by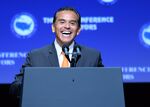 Former Los Angeles Mayor Antonio Villaraigosa will not run for Senator Barbara Boxer's open Senate seat in 2016, he announced Tuesday.
In a written statement Villaraigosa thanked his supporters, but said he wanted to focus on his work in California. "[A]s I think about how best to serve the people of this great state, I know that my heart and my family are here in California, not in Washington D.C.," he said. 
Villaraigosa's exit leaves state Attorney General Kamala Harris, a Democrat, as the race's only major declared candidate. A recent poll from the Field Research Corp. found Villaraigosa trailing Harris among both Democrats and all likely voters.  California's primary system pits all candidates against each other in the spring; the top two vote-getters face off in the fall, even if they are from the same party. 
While a Senate race is out of the question, Villaraigosa implied that he may still run for governor in 2018, a position he's been considering since he left office in 2013. As he says in his statement, he plans to "continue my efforts to make California a better place to live, work and raise a family."  
Before it's here, it's on the Bloomberg Terminal.
LEARN MORE