Christie Proposes $33.8 Billion Budget as Pension Costs Loom
Terrence Dopp and Elise Young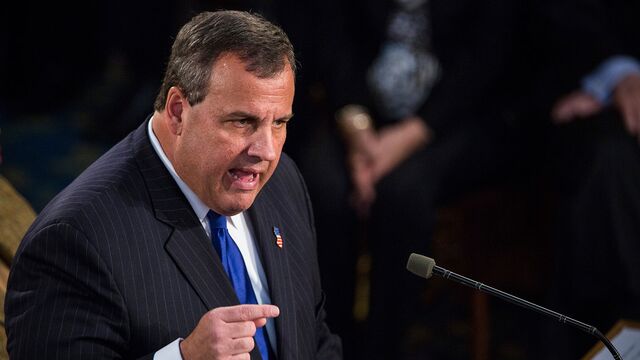 New Jersey Governor Chris Christie proposed a $33.8 billion budget that cuts a promised pension payment by more than half, even as he called for more worker givebacks and said he's talking with unions about a plan to pay off the retirement system's unfunded liability.
The spending plan for the fiscal year that begins July 1 represents a 3.1 percent increase over the current budget and includes a $1.3 billion pension payment, the largest in state history. That contribution, though, falls short of the $3.1 billion the state was scheduled to pay into the system.
The Republican governor's plan for controlling pension expenses comes at a pivotal moment as he considers a run for the White House next year. Christie gained national fame during his first term for assailing the cost of employee benefits and winning Democratic approval for cuts. Now he's distinguishing himself from other Republicans, such as Wisconsin's Scott Walker, by talking about alliances with unions.
"Through our ability to bring people together who have not agreed in the past, we are setting a national trend," Christie said. "By putting forward new solutions to age-old problems, we are creating a national model."
'Road Map'
During the 28-minute speech, Christie said a state commission examining pension funding and New Jersey's teachers union have been in talks for five months about the possibility of freezing the current pension system and creating another one. Both funds would be controlled by a trust overseen by the union. He called the plan a "road map to reform."
Hetty Rosenstein, president of the Communications Workers of America, which represents 55,000 public employees, said her group hasn't been involved in any talks. She said her organization has no details of the proposal and is unwilling to entertain any changes without full funding
"A law is a law and you can't replace a law with a road map," Rosenstein said during an interview on the Assembly floor following the speech. "The truth is you can't change the script. This is not a movie."
Medical Costs
Christie, who has called President Barack Obama's health-care overhaul a failure, is budgeting $120 million less in hospital funding, mostly as a result of savings after the federal changes, according to Treasurer Andrew Sidamon-Eristoff. The budget also would benefit from a projected 3.8 percent increase in tax collections.
All of that revenue growth, though, would be consumed by rising costs for pensions, health benefits and debt service, Christie said. Without changes, pension and benefits next year will reach $8 billion, or 23 percent of the budget, he said.
"In the years ahead, that percentage will grow even larger, making it impossible for the state to do much else to invest in a better New Jersey," he said. "This is not the path forward I want for our state."
Christie's policies are now inevitably viewed through the lens of national politics. Within moments of the speech, the Democratic National Committee released a statement calling the budget "self-promotion" and accusing Christie of leading the state off a fiscal cliff.
In turn, state Republican Chairman Samuel Raia called it an example of "strong Republican leadership."
The budget comes a day after a judge said the governor broke state law by withholding $1.6 billion from the retirement system this year. Sidamon-Eristoff said the ruling, which Christie said he will appeal, has no impact on the 2016 budget.
"We don't need any court to tell us we have a serious problem," Christie said. "No one branch of government can wish or order this problem away."
Pension Payments
The failure to set aside enough money to cover employee benefits has contributed to a record eight credit-rating downgrades under Christie, who came into office in 2010 pledging to deal with rising retirement costs. The governor, who has vetoed tax increases, said the state "cannot tax our way out of this problem."
Senate President Stephen Sweeney, a Democrat from West Deptford, said he's not willing consider splitting the system unless there's full funding and left the door open to an income-tax increase on high earners.
'Not Amenable'
"I'm not amenable to anything until we can fund the system and show it," Sweeney, who in 2011 first proposed giving the unions control of the funds, told reporters after the speech. "Honor your first commitment. Demonstrate you're willing to keep your word and get things done. And then only will you get people to the table."
During his first term, Christie signed legislation requiring workers to pay more for pensions and health benefits. He also froze cost-of-living raises and signed a law requiring the state to increase pension payments to reach full funding by fiscal 2018. The governor abandoned the latter component to close budget deficits after revenue fell short of his targets.
In August, Christie created a panel to study pensions and benefits and make recommendations for reducing costs. The group, which estimated a $37 billion unfunded pension liability in a preliminary report, will release its final findings Tuesday.
Teachers Union
Christie said his accord with the New Jersey Education Association, the teachers union, was unprecented and he called on other labor groups to join them. During his first term, the governor called the NJEA's leaders "political thugs" as he pushed to change tenure, link teacher pay to performance and make it easier to fire educators deemed ineffective.
Wendell Steinhauer, the union's president, said in a statement that no agreement has been reached and the union won't agree to all of the panel's recommendations. There have been discussions on the possibility of freezing the existing system and chartering a new one managed by employees, Steinhauer said.
"Some of what will be proposed is not feasible, and some of it unfairly burdens public employees and retirees," Steinhauer said. "But we will be at the table, working in good faith with all parties to arrive at solutions that fix the problems the state has created, while protecting the security of our members' pensions and health benefits."
Before it's here, it's on the Bloomberg Terminal.
LEARN MORE