Attendees to American Enterprise Institute's World Forum Revealed
The scheduled speakers include many of the 2016 Republican presidential hopefuls.
by and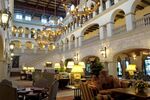 Sandwiched between two defining conservative events—CPAC and the Iowa Ag Summit—is a less publicized but crucial confab for Republican presidential hopefuls seeking support from well-heeled donors.
Held at the remote, luxury Sea Island resort in Georgia, the 2015 American Enterprise Institute World Forum will bring together several potential GOP candidates and members of the business and media. Unlike the Koch's brothers Freedom Partners event in January, however, the World Forum will be closed to the press, but a guest list of invitees and speakers has been obtained by Bloomberg Politics. 
Among the scheduled speakers at the exclusive event, which will be held from March 5-8, are Wisconsin Governor Scott Walker, former Pennsylvania Senator Rick Santorum, former Texas Governor Rick Perry, Indiana Governor Mike Pence, Louisiana Governor Bobby Jindal, South Carolina Senator Lindsey Graham, Texas Senator Ted Cruz, New Jersey Governor Chris Christie, and former Florida Governor Jeb Bush, all of whom have been contemplating entering the 2016 presidential race. 
The goal for many of the prospective candidates will be to impress the uncommitted donors and bundlers in the audience, including TD Ameritrade founder Joe Ricketts, whose super-PAC, Ending Spending, spent roughly $13 million in the 2012 election; Newscorp Chairman and CEO Rupert Murdoch; Alliance Resource Partners CEO Joseph Craft, who donated $2.7 million to Republican and conservative committees in 2014; Equinox Partners President Sean Fieler; and former Amway CEO Dick Devos and his wife, Windquest Group Chairman Betsy Devos, who donated $850,000 to Republican groups last year. 
AEI is a public policy organization whose headquarters is located several blocks from the White House. For decades, it has brought together scholars, office holders, and policy makers as a central part of the center-right conversation. It is far more associated with the political establishment than any populist or tea party movement. A who's who of conservative thought, the World Forum will also feature such notable speakers as former Vice President Dick Cheney, Weekly Standard editor Bill Kristol, former George W. Bush senior advisor Karl Rove, Wisconsin Representative Paul Ryan, New York Times op-ed columnist David Brooks, and Tennessee Senator Bob Corker. As with past World Forum gatherings, a select few Democrats have been offered speaking slots. This year, New Jersey Senator Cory Booker, Hawaii Representative Tulsi Gabbard, and Maryland Representative John Delaney round out the only official Democratic speakers at the Republican-dominated event. 
A highlight of the event, however, will come when the prospective presidential candidates will be interviewed by other attendees. The Wall Street Journal's Paul Gigot will interview Christie. The New York Times' Brooks will speak with Walker. Social scientist, author and AEI president Arthur Brooks is scheduled to question Bush. 
In addition to hearing talks ranging on such topics as "The Shape of Education Reform in a Post-Obama Era" and "ISIS: How They Recruit. Why They're Different. How We're Losing," the more than 350 invited guests and speakers will also be treated to activities including skeet shooting, golf,  yachting, horseback riding, and pastry making. 
The American Enterprise Institute declined to comment on the forum's guest list or on any of it's specific events, but did e-mail a statement.
"The AEI World Forum is an informal gathering of leading thinkers from all ideological backgrounds to discuss challenges that the United States and the free world face in economics, security and social welfare," spokeswoman Judy Mayka Stecker said in the statement. "To maintain intellectual freedom and free discourse, the event is private and off-the-record, therefore we do not comment further on the content or attendees."
—Julie Bykowicz contributed to this article. 
CORRECTION: An earlier version of this post misspelled the name of TD Ameritrade founder Joe Ricketts. 

CORRECTION 2: An earlier version of this post misstated the full name of the conference, which is the American Enterprise Institute World Forum.
Before it's here, it's on the Bloomberg Terminal.
LEARN MORE