U.S. and Iran Make Some Progress in Nuclear Negotiations
Jonathan Tirone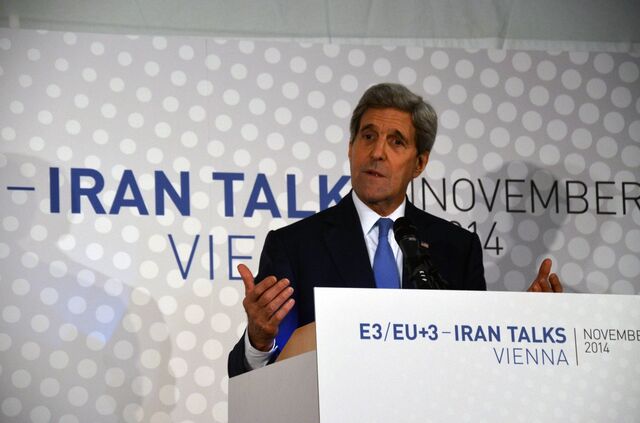 Diplomats negotiating over Iran's nuclear program made progress in four days of intense consultations in Geneva that concluded on Monday, according to a U.S. official.
While there's still no guarantee a deal can be reached and the U.S. isn't backing away from the strict controls it wants over Iran's nuclear work, diplomats on both sides showed good faith in advancing toward their March goal for a framework agreement, said the official, who asked not to be named following diplomatic protocol.
The presence of top physicists at the talks, including U.S. Energy Secretary Ernest Moniz and Ali Akbar Salehi, Iran's atomic-energy chief, showed the high level of technical detail that needs to be agreed on before a deal can be reached. The U.S. is seeking technical fixes to ensure Iran can't break any agreement and race toward a bomb while allowing the Persian Gulf nation to continue enriching uranium.
Any potential deal will require a minimum one-year breakout -- the time Iran would need to assemble the fissile material for a weapon -- for at least 10 years and possibly longer, according to the official. Diplomats will reconvene for more talks on March 2.
U.S. Secretary of State John Kerry, who met his Iranian counterpart, Foreign Minister Mohammad Javad Zarif, departed for Washington. He's scheduled to testify on Tuesday before two Senate committees. Skepticism toward a deal with Iran runs high among American lawmakers, who have talked of imposing a new round of economic sanctions on the Islamic Republic.
Congressional Address
U.S. diplomats negotiating with Iran are facing other critics. House Speaker John Boehner has invited Israeli Prime Minister Benjamin Netanyahu to address Congress on March 3, where the Likud Party leader will warn against the accord being negotiated.
It was the first time that Moniz and Salehi, who both researched physics at the Massachusetts Institute of Technology in Cambridge during the 1970s, joined the negotiations. At the time, the U.S. university was paid by the Iranian government to train a new generation of nuclear engineers.
The scientists helped to sharpen the debate and raised the level of technical negotiations, according to the official.
Reducing Risks
Over the past 16 months, diplomats have been looking for ways to reduce risks posed by Iran's stock of enriched uranium - - the heavy metal used to power both reactors and nuclear weapons. To date, proposals have included exporting a portion of the material and reconfiguring centrifuge assemblies for lower output.
If a permanent deal is reached, the U.S. official said it's highly likely that International Atomic Energy Agency monitors in Vienna will be in charge of supervising compliance. The IAEA, which still needs to finish its 12-year investigation into alleged possible military dimensions of past Iranian nuclear work, convenes its quarterly board meeting next week.
Before it's here, it's on the Bloomberg Terminal.
LEARN MORE