Rick Santorum: George W. Bush Didn't Call Out 'Radical Islam' Enough
The dark horse presidential candidate says he told Bush what to do.
by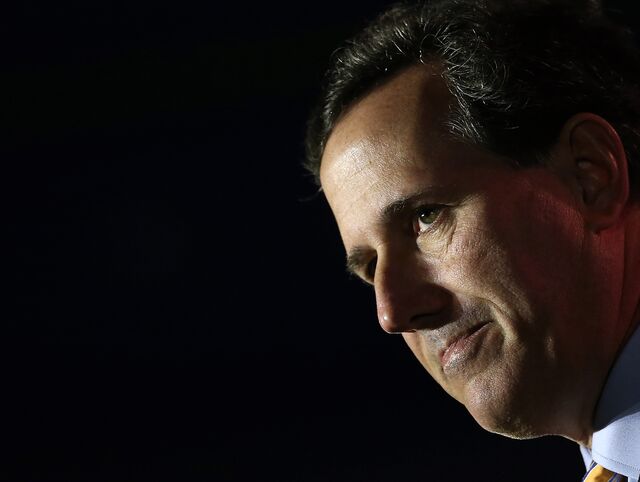 When President Obama warns against calling the Islamic State "Islamic," when he asks people to think of the movement and quasi-nation as a perversion of Islam, his supporters often point out that George W. Bush beat him to the podium. "Islam is peace," said the 43rd president less than a week after September 11, 2001. "These terrorists don't represent peace. They represent evil and war." 
Unlike Obama, Bush did sometimes refer to "radical Islam." To some conservatives, however, he didn't do it enough—"not with enough frequency or detail to change perceptions," as Daniel Pipes put it in 2005. Former Pennsylvania Senator Rick Santorum, who is giving a series of foreign policy speeches in the run-up to CPAC, is telling conservatives that the Bush critics were right. And he's reminding them that he tried to save Bush from himself.
"A lot of people are criticizing President Obama for not calling out the enemy," said Santorum this past Saturday in Kansas City, at a Republican banquet recorded by the tracking group American Bridge. "I think we need to be fair. In 2006, I gave a speech at the National Press Club. I was involved in a re-election campaign that I had a feeling I was going to lose, because the president was sitting at 35 percent in my state. And I was greatly concerned about the future of our country, and our security with the threat of radical Islam. And I gave a speech at the National Press Club that, three days later, I brought and sat on the president's desk. Actually handed it to Tony Snow, who was next to the president's desk."
Santorum was referring to a speech he gave on July 20, 2006, when polling had swung hard against him. He had identified the threat to America as coming from "Islamic fascists," who were engaged in a "world war." As Santorum now tells it, he wanted George Bush himself to embrace that language.
"I said, Mr. President, you need to give this speech," Santorum recalled in Kansas City. "It was a speech on identifying the enemy. It was a speech that said to President Bush, calling these people, Al Qaeda, terrorists, is like giving a speech calling the Nazis in the 1930s and 40s 'Blitzkriegers.' Terrorism is a tactic that is not an ideology. When you identify the ideology, and until you recognize the ideology, and realize that's their motivation."
This wasn't the first time Santorum had nitpicked Bush in absentia. Shortly after the 2014 midterms, Santorum gave a speech at Liberty University, and made headlines for saying that Bush had not often enough identified the post-9/11 threat to America."We don't willy nilly go off to war when a leader says, 'go,'" Santorum said at the time. "We have to be persuaded."
Fast forward to this year: George W. Bush's younger brother has strolled into the 2016 presidential race. Just last week, he gave an answer to a question about ISIS that basically passed the Santorum test.
"I think it's a mistake to think that ISIS is not what it is," he said. "It's violent, extreme Islamic terrorism, and the more we try to ignore that reality, the less likely it is that we're going to develop the appropriate strategy to garner the support in the Muslim world to do what I said, which is tighten the noose and then take them out."
Santorum, who's gearing up for a CPAC speech at week's end, simply went further than either Bush. "ISIS, frankly, is somewhat of a blessing, because they are going from the textbook of what happened at the time of Muhammad," he said in Kansas City. The terror group was practically begging the West to identify it and identify Islamic terrorism. "President Bush, like President Obama, refused to say that. He refused to identify the enemy for what it is. You can blame President Obama, but it started with the 'war on terror.' Terror is a tactic."
Before it's here, it's on the Bloomberg Terminal.
LEARN MORE