How Liberals Triumphed on Oscar Night
The Academy Awards run the liberal issues circuit from NSA spying and wage equality to prison reform and racial injustice.
by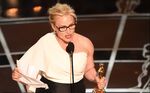 The run-up to to Sunday night's Academy Awards ceremony saw the Internet attacking the system that produced an all-white crop of acting nominees, and the entertainment-industrial complex that asked frivolous questions of women on the red carpet. (Play around with the #BetterRedCarpetQs hashtag for some examples.) In his opening monologue, host Neil Patrick Harris joked that Hollywood was celebrating "the best and the whitest."
A pump was primed, in other words, for someone to have a Moment. That someone was Patricia Arquette, the 46-year-old star of a long-running acting dynasty. As she accepted her prize for best actress in a supporting role, for Boyhood, Arquette mentioned her charity work then pivoted to gender equality.
"To every woman who gave birth to every taxpayer and citizen of this nation, we have fought for everybody else's equal rights," said Arquette, reading from notes, nailing it. "It's our time to have wage equality once and for all, and equal rights for women in the United States of America."
That clip was saved and shared, immediately, by the Center for American Progress's ThinkProgress blog. Gifs of Meryl Streep and Jennifer Lopez exploding from their seats, cheering, bounced around the progressive Web. Twitter exploded just seconds later. CAP president Neera Tanden:
EMILY's List president Stephanie Schriock:
Veep star Julia Louise-Dreyfus, whose character—a fictional president—is constantly undermined.
Democratic National Committee spokesman Mo Elleithee:
What was he responding to? The inevitable backlash, real and anticipated, from conservatives who have alternated (in recent years) between debunking the wage gap and arguing that individual Democrats were hypocrites for under-paying women:
The joy-outrage cycle lasted about an hour, until—as was widely expected—the Laura Poitras documentary CitizenFour won the best documentary prize. Joined by Glenn Greenwald, who had joined Poitras in the film's historic interviews with Edward Snowden, Poitras praised the NSA leaker and "all the other whistleblowers." Not long after, through the ACLU, Snowden congratulated her.
"When Laura Poitras asked me if she could film our encounters, I was extremely reluctant," he said. "I'm grateful that I allowed her to persuade me. The result is a brave and brilliant film that deserves the honor and recognition it has received."
By the time Snowden had said this, John Legend and Common had performed "Glory," their unapologetic anthem from the closing credits of Selma. They won, and they used their speeches to ground the song in the politics of 2015.
"The Voting Rights Act they struggled for 50 years ago is being compromised right now," said Legend. "There are more black men under correctional control today then there were under slavery in 1850."
Before it's here, it's on the Bloomberg Terminal.
LEARN MORE