Edward Snowden's Hollywood Moment Is Here
As an Edward Snowden documentary wins an Oscar, the whisteblower prepares for a Hollywood moment.
by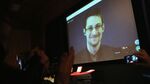 The Oscars had a way of looking a lot like a Hollywood pep rally for Obama. Favored topics on Sunday evening included equal pay, the Voting Rights Act, and the plight of immigrants, with politicos firing up their Twitter accounts to support or condemn the almost invariably progressive talking points. But one of the new darlings of Hollywood likely didn't garner enthusiasm at the White House: Edward Snowden.
That Citizenfour, a documentary detailing how the former National Security Agency employee leaked huge amounts of info on NSA programs, won Best Documentary might be bad enough for Obama. But Snowden now seems to be everywhere else.
According to the Hollywood Reporter, JFK director Oliver Stone is making a biopic about the whistleblower, who is currently living in Russia to evade prosecution. It's getting the star treatment, with Joseph Gordon-Levitt set to star. The paper also reports that Sony has secured the rights to Glenn Greenwald's book, No Place to Hide: Edward Snowden, the NSA, and the U.S. Surveillance State.
Snowden himself seemed to realize the power of his Hollywood moment. "When Laura Poitras asked me if she could film our encounters, I was extremely reluctant," Snowden said in a statement released through the American Civil Liberties Union. "I'm grateful that I allowed her to persuade me... My hope is that this award will encourage more people to see the film and be inspired by its message that ordinary citizens, working together, can change the world."
Before it's here, it's on the Bloomberg Terminal.
LEARN MORE