Chris Christie Is Going Back to His Town-Hall Roots
A Wednesday town hall-style meeting will be his first such event since August.
by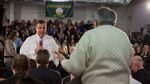 New Jersey Governor Chris Christie is returning to the format that helped make him famous.
The likely Republican presidential candidate is set to host a town hall-style meeting in Moorestown, N.J., on Wednesday, according to his office. It will be his first such event since August.
What was Christie doing during his town-hall hiatus? Prior to the midterm elections, he traveled around the country as chairman of the Republican Governors Association, at one point visiting 19 states in four days. The effort paid off: Republicans gained seats, including in traditionally Democratic states such as Illinois and Maryland.
Christie has also ramped up his consideration of a presidential bid, recently traveling to the U.K., Iowa, and New Hampshire. 
But at home, his popularity has suffered. A Rutgers-Eagleton poll taken Feb. 3-10 found his favorability rating at just 37 percent of registered voters, down from 44 percent in December. 1 The February 2015 poll surveyed 694 registered voters by phone with a margin of error of plus or minus 4.2 percentage points.  And he has seen a bout of bad press stemming from his comments on vaccines, scrutiny of his travel habits, and signs of his potential 2016 rivals' polling and fundraising strength.
Wednesday's event will be an opportunity for Christie to put his New Jersey bombast back on display. It was at a town hall-style event that he memorably sparred with a teacher in 2010:
He also did a series of town hall-style meetings after a traffic-jam controversy erupted last year; then, he found a mix of friendly crowds and protesters. Wednesday's event is taking place in Burlington County, where Christie won more than 60 percent in his 2013 reelection bid.
Unlike the slick town hall-style meetings of President Barack Obama—one of which happens to be scheduled for the same day as Christie's, with MSNBC—the governor's events can be Thunderdome-esque. At a recent speech in New Hampshire, Christie held this up as a point of pride.
He added that he would not soften his demeanor as a presidential candidate. "There's only one Chris Christie, everybody, and this is it," he said.
Before it's here, it's on the Bloomberg Terminal.
LEARN MORE