Kasich: Despite 'Clumsy' Handling, Obama Should Meet With Netanyahu
The potential White House candidate urges the president to get past the controversy.
by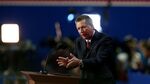 Ohio Governor John Kasich says President Barack Obama should meet with Israeli Prime Minister Benjamin Netanyahu when he visits Washington next month, despite the controversy over the trip.
House Speaker John Boehner, Kasich's fellow Ohio Republican, invited Netanyahu to address Congress on March 3 and has acknowledged he went around the White House to avoid interference. Obama has said that due to the proximity of Israeli elections, he won't huddle with the foreign leader.
"Use common sense," Kasich said in an interview that aired Sunday on CNN's State of the Union. "You got a foreign leader coming, a great ally of ours, he's coming here. Was it handled in maybe a clumsy way? OK, so it was. But look, get beyond that."
Kasich, who said he may run for president in 2016 and has been touring states on a campaign for a balanced-budget amendment, said he would have handled the visit differently than Obama has.
"I'd have a meeting with him," Kasich said. "Have a cup of coffee, why not? ... Let him speak, and the president can have a meeting with him. They don't have to have a photo op or anything, but of course you go and you talk to him."
MORE FROM BLOOMBERG POLITICS
Before it's here, it's on the Bloomberg Terminal.
LEARN MORE