Southern Universities Still Wrestling With Racist Pasts
Students and faculty are pushing to rename campus buildings that memorialize segregationists and klansmen.
by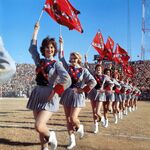 Tillman Hall is the building that goes on the Clemson University posters, at least the ones that don't feature the football stadium or an orange paw print. The red brick building with a clock tower is the grandest and best-known structure on campus. It's also named for a vehement racist. The building's namesake, Benjamin Tillman, was a South Carolina governor and U.S. senator in the late 19th century, best known for his fiery rhetoric and for helping to craft the Jim Crow laws. He also helped found Clemson.
Clemson, along with other Southern universities, and even some in the North, is now wrestling with that troubled legacy. The Clemson Faculty Senate last week passed a resolution asking the administration to change the name.  Jane Lindle, an education professor with an office in the building who is on the Faculty Senate, said that its name presents two sets of problems for her. On a practical level, it's "an obstacle" to attracting talented faculty. The history behind the name is a deterrent, and its quotidian familiarity creates an ethical problem: "It raises the issue of why aren't we educating folks better about some of the negative symbolism that they take for granted," she said. 
For students who know the history, the name can send a hurtful message. A black Clemson student named Edith Dunlap told the Greenville News that to see the building on her campus is a "slap in the face."
Still, for many schools, effacing that history is a problematic choice. Clemson issued a statement last week, saying that its board will not change the name. "We believe that other, more meaningful, initiatives should be implemented that will have more of an impact on the diversity of our campus than this symbolic gesture," the statement said. 

Debates of this kind have been simmering for several years.  Earlier this month, students at the University of North Carolina's flagship campus in Chapel Hill protested to change the name of Saunders Hall, a history building named for William Saunders, a Confederate colonel and later leader in the Ku Klux Klan. In 2010, the University of Texas wound up changing the name of a dormitory from Simkins (another Klansman) to Creekside. 
In each of these situations, the central question has focused on where the line is between acknowledging the past and glorifying it. It is impossible to rename every building that has a connection to slavery or the oppression of black people. Thomas Clemson, for whom Clemson University is named, was a slave owner. So was George Washington.
In their statement, Clemson's trustees argue against changing the name, saying "every great institution is built by imperfect craftsmen," and that the university cannot undo its past. "Stone by stone they add to the foundation so that over many, many generations, we get a variety of stones," the statement says. "And so it is with Clemson. Some of our historical stones are rough and even unpleasant to look at. But they are ours and denying them as part of our history does not make them any less so."
But others argue that it's one thing to acknowledge that an institution (or a nation) was founded in a less just time, and quite another to continue to honor people who directly and violently worked to preserve that injustice, especially since renaming a building is so simple.  

After a 2012 incident, when a mob of students protesting President Barack Obama's reelection chanted racial slurs, the University of Mississippi appointed a committee to address issues of insensitivity on campus. That committee came up with a list of recommendations, one of which was the renaming of a building called Vardaman Hall. 
James Vardaman became the governor of Mississippi in 1903, riding into office on a wave of racial hatred. He referred to the African American race as a "lazy, lying, lustful animal, which no amount of training can transform into a tolerable citizen." Another of his choice quotations: "If it is necessary every Negro in the state will be lynched; it will be done to maintain white supremacy."
The "rewriting history" argument doesn't work for Charles Ross, an African American studies professor who sat on the committee. In his view, things like the school's confederate soldier statue, or the fact that there was once a building called "Vardaman," belong in a museum, or at the nearby Confederate cemetery. He says they belong in a place thats purpose is expressly historical, not commemorative.
"We're not trying to erase the past but don't try to make me embrace it," he said. "When these things were decided, when it was the decision to name Vardaman Hall, when it was the decision to put up the Confederate statue, African Americans were not a part of that decision-making process."
After the committee issued its recommendations in the summer of 2013, The University of Mississippi sought guidance from administrators at the University of Richmond in Virginia and the University of Texas. The resulting report included Vardaman Hall on a list of landmarks and building names  to contextualize, though it did not explicitly call for a name change. In its response to this report, as well as the one from the university committee, the administration did decide in 2014 to change the name of a street on campus from Confederate Drive to Chapel Lane, but has no plans to rename buildings, said Danny Blanton, the university's director of public relations. The university does plan to contextualize some of its symbols, though no specific plan has been put into action yet.
"We haven't made any other name changes," Blanton said. "Instead of doing away with them, we're going to put markers on them to provide a historical perspective on what they meant to the state and the university, respectively."
Vardaman Hall currently houses the school's William Winter Institute for Racial Reconciliation, among other departments.

These issues of problematic histories, of course, are not exclusive to southern schools. Some of the country's oldest institutions date back to a time when slavery was legal throughout the nation. Brown University, for example, is named for John Brown, a slave trader. In 2007, a committee devised a list of recommendations for how the university should acknowledge that past. 
But often in the South, that problematic history is interwoven with the school's current culture and identity. In the case of the University of Mississippi, it is the slave age that gave birth to the nickname "Ole Miss." 
"Slavery and the era of segregation were always a part of the identity of this institution," Ross said. "On the plantation, slaves referred to the plantation owner's wife as 'Ole Miss' and the daughter as 'Ole Missy.'"
The external report addressed this question, too, saying the school should consider the name's implications. University Chancellor Dan Jones ultimately drew the conclusion that "regardless of its origin, the vast majority of those associated with our university has a strong affection for 'Ole Miss' and do not associate its use with race in any way."  
Ross said he disagrees with this line of argument. "It is psychologically problematic when you understand what the term is," he said. "The vast majority of the football players are African American and on these helmets they have 'Ole Miss.'"
Donald Cole, the university's assistant to the chancellor for multicultural affairs, was one of the university committee's chairs. He said the recommendations "gave some leeway" and that this resolution "is not the end of the book."
Cole said that during the process, he had heard from an organization called the Sons of Confederate Veterans in a letter that brought up possible legal action should the school attempt to remove or relocate its confederate monument. Cole said he thought the school administrators probably received similar input from that group or other ones. 
"There are many people out there who have an alternative voice," Cole said. "Part of what we have to do is educate those individuals. That's all I know to do." 
Before it's here, it's on the Bloomberg Terminal.
LEARN MORE