Elizabeth Warren Questions Stock Sales by Trading Commissioner
Robert Schmidt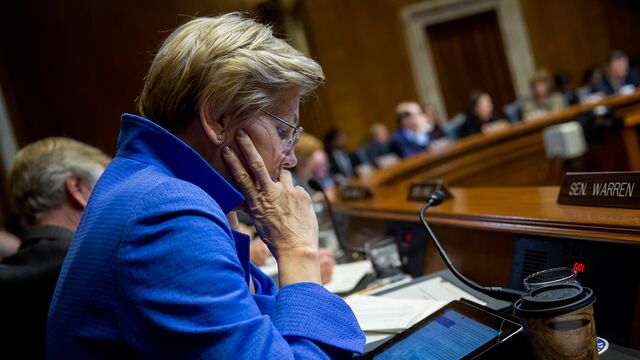 Two Democratic lawmakers are raising ethics questions about Commodity Futures Trading Commission member J. Christopher Giancarlo's ties to his former employer, a derivatives brokerage the agency regulates.
Senator Elizabeth Warren of Massachusetts and Representative Elijah Cummings of Maryland wrote to Giancarlo Friday, requesting documents about his sale of tens of thousands of shares of GFI Group Inc. As Giancarlo unloaded his holdings last year, the firm's stock price surged on news it was a takeover target.
Warren and Cummings also asked Giancarlo how he would handle any conflicts related to GFI's sale. The company agreed Friday to be purchased by BGC Partners Inc., a rival brokerage.
"We are concerned about the potential for broad conflicts of interest," the lawmakers wrote.
A Republican, Giancarlo is the first commissioner to join the CFTC from a swaps brokerage, a sign of the agency's increased importance to Wall Street after lawmakers approved the Dodd-Frank Act. The law gave the commission new powers to oversee swaps, financial products that helped fuel the 2008 credit crisis.
Full Compliance With Rules
In a statement, Giancarlo said he would comply with the request.
"I did everything right," he said. "I am happy to respond to Senator Warren and Congressman Cummings and look forward to setting the record straight."
When Giancarlo was confirmed for a CFTC seat in June, GFI gave him a $2.15 million severance and allowed him to sell about 50,000 shares of restricted stock that he had been given. A 55-year-old attorney, Giancarlo had been in charge of shareholder relations and mergers and acquisitions at the company.
As he divested during his first 90 days at the CFTC -- a timeframe allowed by ethics rules -- GFI's stock price doubled. The transactions were first detailed in a January article by Bloomberg News.
Giancarlo's office has said most of the stock was sold automatically every 15 days under a plan he set up several months before he was chosen for the CFTC job. The plan was then triggered after the Senate approved his nomination.
At the time he began his sales, GFI's stock price was around $3.25. About a month later, CME Group Inc., the world's largest futures exchange, agreed to buy the firm, boosting GFI's stock to $4.47. BGC entered the bidding for GFI Sept. 9 and the share price jumped again.
High Price For Year
According to government ethics filings, Giancarlo departed from his automatic plan and sold his remaining shares on Sept. 9, 11 and 12. On the last day he sold, GFI reached its high price for the year, $6.18.
Giancarlo's office said he was forced to rush his final sales because of a mistake in the design of the trading plan.
Warren, a member of the Senate Banking Committee, and Cummings, the senior Democrat on the House Committee on Oversight and Government Reform, asked about the timing of Giancarlo's trades. They requested he provide a copy of his trading plan and other documents by March 6.
Before it's here, it's on the Bloomberg Terminal.
LEARN MORE