U.S. House Democrats Urge Boehner to Delay Netanyahu Speech
Kathleen Miller and Terry Atlas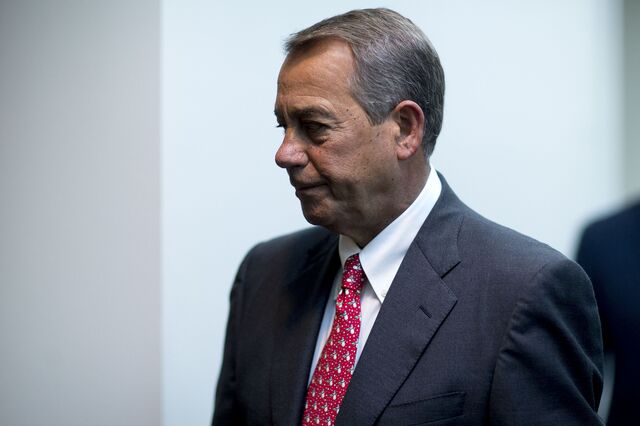 Twenty-three U.S. House Democrats urged Speaker John Boehner to postpone a speech to Congress by Israeli Prime Minister Benjamin Netanyahu, saying it appears Boehner is "using a foreign leader as a political tool against" President Barack Obama.
The congressional address scheduled for March 3, when Netanyahu says he will warn about a "bad" nuclear deal that Obama is negotiating with Iran, has further strained a troubled relationship between the two leaders.
The Democrats' letter sent Wednesday, coordinated by Representatives Keith Ellison, Steve Cohen and Maxine Waters, questioned whether Boehner was using Netanyahu's appearance before a joint meeting of Congress to persuade lawmakers to back new sanctions on Iran despite a veto threat from Obama.
Netanyahu has stepped up his public criticism of a potential accord with Iran as Israel heads to elections next month. On Wednesday, State Department spokeswoman Jen Psaki said the U.S. is withholding some "classified negotiating details" from Israel because officials have been mischaracterizing and "cherry-picking" previously provided information in public comments and leaks to the media.
"Israel knows the details of the agreement," Netanyahu said Thursday, speaking on Israel Radio. "I think it is a bad and dangerous agreement for Israel and not just for Israel. If anyone thinks otherwise, what is there to hide?"
In response, Psaki said Thursday there isn't a deal yet "so it's hard for anyone to know" whether it may be good or bad.
Israeli Politics
Netanyahu's political rivals, Labor leader Isaac Herzog and former Foreign Minister Tzipi Livni, said Thursday that the prime minister is damaging the relationship with the U.S. that is vital to Israel's security.
"Leaking and undermining will not help Israeli security interests," Herzog said in an address to the Conference of Presidents of Major American Jewish Organizations meeting in Jerusalem on Thursday. "What will help Israeli security interests will be enhancement and fostering of direct relations and intimacy between Israel and the U.S. This is our challenge, and that's why I am challenging the prime minister on his decision to speak at Congress."
Israel's Election
Netanyahu's speech is scheduled just weeks before Israel's March 17 election, providing a high-profile platform as his Likud party is running neck-and-neck with opposition leader Herzog's Zionist Camp bloc. Polls show Netanyahu is more likely to be able to assemble a ruling coalition with smaller parties in the 120-seat parliament. Herzog has sought to make Netanyahu's strained relationship with Obama an element in the Israeli election.
Obama has said further sanctions would jeopardize the negotiations, perhaps leading to war with Iran if it then moved toward producing nuclear weapons. Obama said he would veto legislation imposing additional sanctions during negotiations on a nuclear deal with Iran, which are due to continue to June 30.
The Democratic U.S. House members said in their letter, "The timing of this invitation and lack of coordination with the White House indicate that this is not an ordinary diplomatic visit."
"We should be able to disagree on foreign policy within our American political system and without undermining the presidency," the lawmakers said.
Negotiation Deadline
Lawmakers who signed the document asked Boehner, an Ohio Republican, to delay the event until after the Israeli election and the deadline for diplomatic negotiations with Iran.
Those signing the letter include Oregon Democrat Peter DeFazio, Betty McCollum of Minnesota and Jim McDermott of Washington. Michael Steel, Boehner's spokesman, said the Netanyahu speech is still scheduled for March 3.
The U.S. and other world powers are seeking a deal that would limit Iran's ability to produce nuclear weapons and would provide a one-year warning in the event Iran tries to race to produce them. Netanyahu, who in the past has threatened airstrikes against Iranian nuclear facilities, said that wouldn't adequately protect Israel from the existential threat of a nuclear-armed Iran.
Secretary of State John Kerry plans to continue negotiations with Iranian Foreign Minister Javad Zarif on Feb. 22 in Geneva, Psaki announced Thursday, with a March 24 deadline to reach a political framework accord. Both Kerry and Obama have said there's no better than a 50-50 chance the negotiations will be successful.
Before it's here, it's on the Bloomberg Terminal.
LEARN MORE