Obama Says Oppression Is Feeding Spread of Extremist Ideologies
Toluse Olorunnipa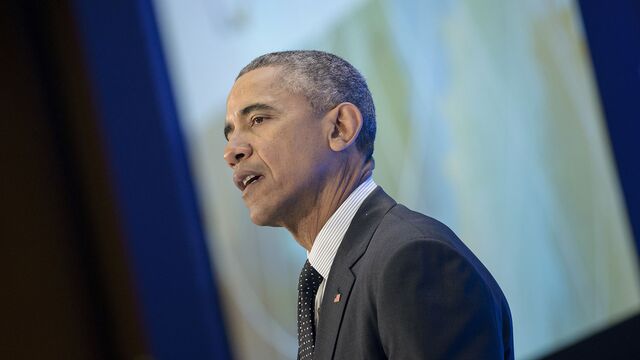 President Barack Obama urged Middle Eastern nations to address grievances on poverty and human rights that are being exploited by Islamic State and other terrorist groups to feed their extremist ideology.
There's an "undeniable" link between oppression and the alienation that gives rise of terrorism, Obama said in remarks to officials from more than 60 countries gathered in Washington for a summit on countering extremism.
"When people are oppressed, and human rights are denied -- particularly along sectarian lines or ethnic lines -- when dissent is silenced, it feeds violent extremism," he said.
Obama said Muslim clerics and scholars also have a responsibility to push back against "twisted interpretations of Islam" and the notion that extremist groups are engaged in a clash of civilizations against the West.
Obama's comments came on the final day of a three-day summit as he pivoted from the summit's first two days, where the agenda mostly focused on domestic policy and drawing the cooperation of U.S. Muslim communities.
Speaking before United Nations Secretary-General Ban Ki-moon and the foreign ministers of several countries, Obama reiterated a call to action he made in a September speech to the UN General Assembly.
The UN Security Council unanimously passed a resolution in September urging member nations to take steps to combat the influx of foreign fighters to parts of the Middle East controlled by terrorist groups.
Islamic State
In the months since, the Islamic State militants operating in Iraq and Syria claimed responsibility for dozens of beheadings, burned alive a Jordanian pilot and vowed to expand into Europe. Terrorists claiming allegiance to Islamic State have carried out attacks in Paris, Sydney, Copenhagen and elsewhere.
Young men who grew up in Western countries and later became radicalized have carried out many of the attacks, underscoring the need for all governments to build inclusive societies and provide economic opportunities, Obama said.
"If we're serious about countering violent extremism, we have to get serious about confronting these economic grievances," he said.
New Strategies
The U.S. is sponsoring two studies to determine whether anti-gang strategies might be effective in countering homegrown terrorism, Attorney General Eric Holder said Thursday at the summit.
"We are learning that there may be similarities in the factors that lead to gang involvement and violent extremism," Holder said, according to prepared remarks. "In both instances, the sense of belonging to a cause, however misguided, may be a lure for disaffected young people."
The 22-year-old man who killed two people in Copenhagen earlier this month had previously been involved in a gang, according to police.
In the Middle East, young men with poor economic prospects are more likely to be drawn to terrorism, said Michael. T. Flynn, a retired Army lieutenant general and former director of the Defense Intelligence Agency.
"Incredible levels of corruption within the governments," a lack of inclusiveness and "a real desperate economic condition," are the main drivers of extremism, Flynn told the House Armed Services Committee on Monday.
Economic Support
Obama said U.S.-led initiatives will provide economic support for young people in Muslim communities and "counter terrorist propaganda." He urged foreign leaders at the summit to "join us in this urgent work."
Critics of the president have questioned the value of the summit and called on the White House to take a more proactive role in combating Islamic State fighters.
Jeb Bush, the former Republican governor of Florida, described Obama's foreign policy as inconsistent and indecisive in a speech in Chicago on Wednesday.
"We have lost the trust and the confidence of our friends," said Bush, who is considering a run for president. "We definitely no longer inspire fear in our enemies."
Texas Senator Ted Cruz, a prospective candidate for the Republican presidential nomination in 2016, called Obama "an apologist for radical Islamic terrorists" in an interview on Fox News.
Before it's here, it's on the Bloomberg Terminal.
LEARN MORE