Brown Sworn in as Oregon Governor After Kitzhaber Resigns
Alison Vekshin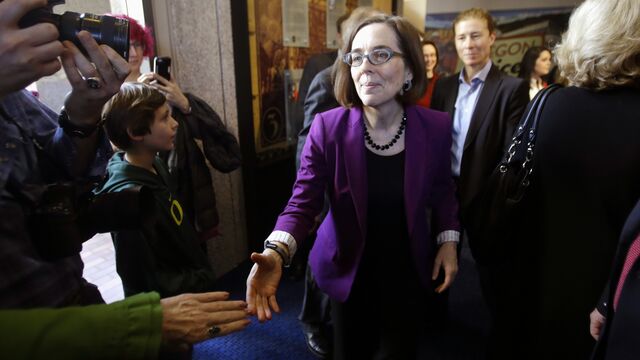 Kate Brown, Oregon's secretary of state, was sworn in as governor Wednesday, replacing John Kitzhaber, who resigned last week after his fiancee was accused of using his office to generate consulting business.
Brown, a 54-year-old Democrat, pledged not to seek or accept payment from any outside source while in office and said her family and staff will follow suit.
"The people of Oregon have reason to question their trust in state government," Brown said in remarks after taking the oath of office at the state capitol in Salem. "It's time for us to get back to work. It's time to move Oregon forward."
Brown assumes the office until 2016. Kitzhaber, a 67-year-old Democrat re-elected to a fourth term in November, announced his resignation Feb. 13 after leaders of his own party called on him to quit. He officially departed at 10 a.m. Wednesday.
Attorney General Ellen Rosenblum said Feb. 9 she is conducting a criminal investigation of Kitzhaber and fiancee Cylvia Hayes, 47.
Oregon Republicans, the legislature's minority party, moved this week to tighten laws governing official conduct. Representative Julie Parrish on Feb. 16 offered a set of ethics bills, including one that would define the role of the governor's spouse and set standards for those with active roles in public policy.
Brown becomes the first openly gay sitting governor in the U.S., according to the Human Rights Campaign, which advocates for homosexuals. She is married to a man, Dan Little, and describes herself as bisexual.
Political Appointment
Brown was secretary of state since 2009. She began her political career in 1991 with appointment by a county board to fill a vacant seat in the state House of Representatives. She was later elected to the Oregon Senate, of which she became the first female majority leader in 2004.
Brown was born in Spain and grew up in Minnesota. She received a bachelor's degree in environmental conservation at the University of Colorado at Boulder before earning a law degree at Lewis & Clark Law School in Portland.
As secretary of state, she focused on improving voter registration, according to her website. Last week, a legislative committee approved her "motor-voter bill" to register Oregonians to vote when they apply for driver's licenses.
Before it's here, it's on the Bloomberg Terminal.
LEARN MORE