Obama Picks Secret Service Veteran Joseph Clancy as Director
Angela Greiling Keane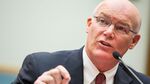 U.S. President Barack Obama bucked the recommendation of a panel that advised he seek an outsider and picked acting Secret Service Director Joseph Clancy to lead the agency on a permanent basis.
Clancy, formerly the special agent in charge of the Secret Service's Presidential Protective Division, is taking over the agency responsible for guarding the president, which lawmakers and security specialists have said needs an overhaul following several years of turmoil and scandal.
Clancy stepped in as acting director "at a rather difficult time," White House press secretary Josh Earnest said Wednesday. He "demonstrated the kind of leadership that, frankly, many of us expected him to demonstrate."
The new director, whose job doesn't require Senate confirmation, will have the task of restoring trust to the beleaguered agency following an intruder's breach into the White House last year and reports of traveling Secret Service agents cavorting with prostitutes and getting drunk while on assignment.
Shortly after taking the job on an interim basis, Clancy told the House Judiciary Committee that the agency had been damaged in recent years by misconduct and operational breakdowns. The chairman of that committee today praised Clancy's selection.
'Exemplary Record'
"Clancy has an exemplary record of service as the head of the Presidential Protective Division and took over as acting director of the U.S. Secret Service at a critical juncture for the agency," Judiciary Committee Chairman Robert Goodlatte, a Virginia Republican, said in a statement.
One congressional critic of the Secret Service said Obama should have taken the recommendation of a panel appointed by Homeland Security Secretary Jeh Johnson to have an outsider change the agency's culture.
"The panel made it crystal clear that only a director from outside the agency would meet the needs of the agency today -- someone with a fresh perspective, free from allegiances and without ties to what has consistently been described as a 'good old boys network,'" House Oversight and Government Reform Committee Chairman Jason Chaffetz, a Utah Republican, said in an e-mailed statement.
External Candidates
Johnson said he and Obama considered candidates from outside the Secret Service.
"Joe Clancy struck the right balance of familiarity with the Secret Service and its missions, respect from within the workforce, and a demonstrated determination to make hard choices and foster needed change," Johnson said in a statement.
The top Democrat on the oversight committee, which held hearings on Secret Service lapses, praised the work Clancy has done so far.
"Joe Clancy has taken strong action over the past several months to begin righting the ship at the Secret Service, he has been extremely responsive to Congress, and his decisive leadership has already resulted in major changes," Representative Elijah Cummings of Maryland said in an e-mailed statement.
Clancy, 59, was named acting director in October. He replaced Julia Pierson, the first female chief of the Secret Service, who quit as the agency came under fire for several security lapses, including allowing an intruder who jumped the White House fence to enter the executive mansion on Sept. 19.
Pierson today praised Clancy, saying in an e-mail she hopes he's successful in getting more funding.
"I know firsthand the challenges he will face, and am happy to support him in his efforts to ensure the long-term success of the Secret Service," she said.
Making Changes
Earnest said Clancy, a 27-year veteran of the Secret Service, has demonstrated willingness to make the necessary changes.
As acting director, Clancy conducted a "top-to-bottom" review, required all personnel on the White House grounds to undergo additional training and asked for more funding, Earnest said.
Last month, four top Secret Service officials in charge of investigations, protective details, public affairs and technology were removed from their jobs as part of an overhaul.
The independent panel concluded in December that the Secret Service must improve its training and change its leadership and culture in light of security mishaps and a prostitution scandal in 2012 that drew scrutiny from lawmakers and White House officials.
Clancy had been working in top-level security positions for Comcast Corp. since retiring from the Secret Service in 2011.
Before it's here, it's on the Bloomberg Terminal.
LEARN MORE