Jeb Bush: 'Mistakes Made in Iraq for Sure'
He blames President Obama for not building on his brother's success.
by and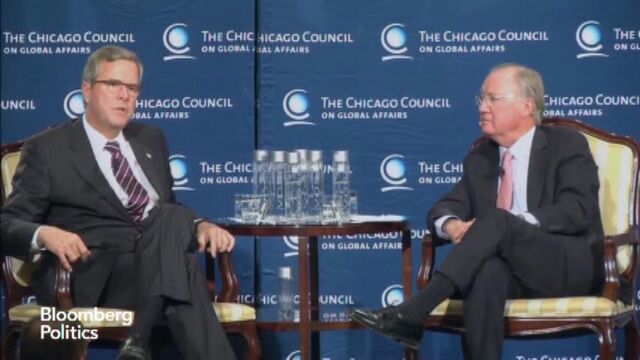 Former Florida Governor Jeb Bush said Wednesday that "mistakes" in Iraq included relying on intelligence regarding weapons of mass destruction that turned out to be wrong and a failure to create an environment of security after overthrowing Saddam Hussein.
"Iraqis wanted security more than anything else," said Bush, a potential presidential candidate and the brother of former President George W. Bush, at the Chicago Council on Global Affairs.
His brother's "surge" strategy in Iraq was politically "heroic" and "hugely successful," the Republican said. He blamed President Barack Obama for not building on his brother's success and for allowing the "void" in Iraq to be filled by terrorists.
"ISIS didn't exist three or four years ago," Bush said.
MORE FROM BLOOMBERG POLITICS
Before it's here, it's on the Bloomberg Terminal.
LEARN MORE