Immigration Is Looking Like a Lucrative Issue for Jeb Bush's Campaign
Bush's position on immigration is popular with a leading fundraiser who can help him smash the field.
by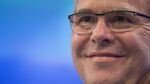 It never quite added up: Jeb Bush insisted in 2012 that he backed immigration reform because he was "all about winning," but he held to it in 2015 even as it became clear it would be a huge obstacle to him winning the key primaries. In Iowa, for instance, up to 63 percent of likely caucus goers said Bush's support for immigration reform and the Common Core curriculum standards as deal-killers or considerations in a Bloomberg Politics/Des Moines Register poll. Convictions aside, the likely 2016 candidate for the Republican nomination was sticking a position that may well be his biggest weakness to the conservatives he will need to make it through the primaries.
But a very good reason may have just become obvious: Immigration reform is a lucrative position.
Vox.com put together a few data points on the issue, and they center around Spencer Zwick, the national finance chair of Romney's 2012 who is now a much-sought-after Republican free agent. Zwick, the site pointed out, reiterated his support for immigration reform on Tuesday, even as the topic fueled the latest clash between President Obama and Congressional Republicans. Zwick also told Time's Zeke Miller that "If someone wants to be taken seriously running for president, they need to be in a similar place" to Bush, who has supported letting people who immigrated to the U.S. without authorization to stay in the country and making it easier to get worker visas for new entrants. At the same time, Bush posted on Facebook, telling Obama and Congress to "fix our broken immigration system."
Bush, of course, has set an ambitious fundraising goal, aiming to raise a $100 million in just the first quarter to "attempt to intimidate the wide-open field with a shock-and-awe fundraising machine," according to Bloomberg Politics' own Michael C. Bender and Jonathan Allen. Now it seems that Bush and Zwick may be circling one another on an issue where the business groups who would make that goal a reality have bucked hard-line Republican positions in favor of reform.
Before it's here, it's on the Bloomberg Terminal.
LEARN MORE