Can Jeb Bush Distinguish Himself From His Brother on Foreign Policy?
The former Florida governor has been speaking aggressively about America's role in the world, while privately admiring experts with more centrist views.
by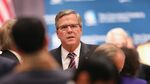 As former Florida Governor Jeb Bush looks for opportunities to distinguish himself from the brother he'd like to follow into the White House, he seems ready to adopt a similar approach to foreign policy.
On Wednesday, Bush will address the Chicago Council on Global Affairs, giving his first speech focused on foreign policy since he announced in December that he was actively exploring a Republican presidential campaign. While Bush's positions on immigration and education are relatively well known among Republican voters, his positions on America's role in the world remain largely undefined.
Still, expectations should be high when it comes to Bush's understanding of international affairs. After eight years as governor of a state largely dependent on foreign trade, Bush signed on as a senior advisor to London-based Barclays PLC, where he was exposed to foreign markets while advising bank clients from Europe to Asia. Bush started an investment fund last year with backing from a Chinese conglomerate, and told donors in Washington last month that he'd been traveling to the country as many as four times annually in recent years. A fluent Spanish speaker who lived in Venezuela before entering politics, Bush also led trade and advocacy missions to more than two dozen countries as governor, including Afghanistan, Israel and Thailand. 
Bush also had a front-row seat to history as his brother and father sent ground troops or air strikes into Afghanistan, Iraq, Pakistan, Panama, Somalia, and Yemen while in office. And voters appear ready to assign the former governor his brother's world view. In a Bloomberg Politics/Saint Anselm poll of likely primary voters in New Hampshire this month, Republicans said their top issue was fighting terrorism, and that the former governor would be far better combating terrorism than Wisconsin Governor Scott Walker, Senator Rand Paul Paul, or New Jersey Governor Chris Christie.
"I love my father and my brother," Bush planned to say Wednesday, according to speech excerpts released by his political action committee. "I admire their service to the nation and the difficult decisions they had to make. But I am my own man—and my views are shaped by my own thinking and own experiences."
Still, his circle of foreign-policy advisers is taking shape with plenty of familiar faces. They include former Secretaries of State James Baker, who served in Bush's father's administration, and George Shultz, as well as Meghan O'Sullivan, a former deputy national security adviser aligned with the pragmatists of the H.W. Bush era, according to a list provided by a Jeb Bush aide. They also include figures from his brother's tenure such as former Homeland Security Secretaries Tom Ridge and Michael Chertoff and ex-CIA Director Michael Hayden.
He hasn't convinced many foreign-policy experts that he would be as aggressive overseas as former President George W. Bush. Wesley Renfro, an international policy professor at St. John Fischer College who has written about the different foreign policy approaches taken by the two Bush presidents, said Jeb Bush's recent speeches are designed to appeal to Republican primary voters. "You can expect Jeb Bush to espouse a generic Republican foreign policy, in particular when that foreign policy is reflexively critical of anything Obama has done," Renfro said. "But I don't think that's a reliable guide to how a President Jeb Bush would govern." 
The disconnect is valid. In speeches across the country over the past year, Bush has used broad strokes to frame his thinking on international affairs while indicating that he wants to spend more on defense, use additional U.S. troops to maintain peace in hot spots around the globe and have a stronger presence in Latin America. "Our friends need to know we have their back," Bush said during a question-and-answer session in San Francisco last month. "And our enemies need to know that if they cross a certain line, the United States will engage in a partnership with their friends. That's not happening right now."
He also noted in San Francisco that he and Mitt Romney, the party's 2012 nominee, met recently and spoke about "the need for more engaged foreign policy."
When it comes to the wars started under his brother's watch, Bush said last week that he wasn't interested "re-litigating anything in the past" when asked during a news conference in Florida about Iraq and Afghanistan. "I won't talk about the past," Bush said about his speech in Chicago. "I'll talk about the future."
While Bush takes a much different approach to the current administration—when he's veered into foreign policy during the past year he almost always criticizes President Barack Obama—he has been reluctant to criticize his brother's decisions.
In a 2009 interview on CNN, Bush was asked if George W. Bush erred in focusing on Iraq instead of Afghanistan. "No, I don't think so," Bush said.
In Florida last year, Bush suggested it was a mistake for Obama to withdraw troops from Iraq, and contrasted the chaos there with the relative stability in Korea, which he said was thanks to thousands of U.S. soldiers stationed there. "This president missed an opportunity to do the exact same thing in Iraq," Bush said during a speech to the U.S. Cuba Democracy PAC.
Bush also suggested he favors some of the controversial NSA snooping programs started under the last Bush administration. "We need to persuade people that the intelligence capabilities we have keep us safe and they're important, that they're not a violation of civil liberties," the former Florida governor said last year during a Wall Street Journal CEO Council meeting. "It's a means by which we can be free from the jihadist attacks that are happening and will happen at a greater pace if we continue to retrench."
Bush himself has already taken that approach. When asked about the recent terrorist attacks in France, Bush said in San Francisco that "it could happen here and that we have to keep our guard up." "We can't just keep pulling back," Bush said. "And the president needs to lead in this regard and explain to people how important it is to protect the homeland and the kind of tools we need to make that happen."
In his Florida speech last year, Bush said Islamic terrorists are creeping closer to America, while Chinese and Russian interests make inroads in Latin America. "Fronts are opening up for Islamic terrorism in Latin America," Bush said, pointing to Venezuela and Paraguay, "that could create significant security challenges in the hemisphere."
Bush also used that Florida speech to outline a broad, eight-point plan on foreign policy that included a call to ease immigration laws to bring in "the best and most aspirational people in the world." "If we were to grow at a faster rate, a foreign policy that would be more engaged, more involved, more leading the world, I think would come naturally," Bush said. "And so that has to be part of the foreign policy considerations going forward."
Before it's here, it's on the Bloomberg Terminal.
LEARN MORE