What Warren's Backers Think About Her Meeting With Hillary Clinton
For Warren's most vocal supporters, the self-appointed army raging for economic populism, the tête-à-tête was extremely encouraging.
by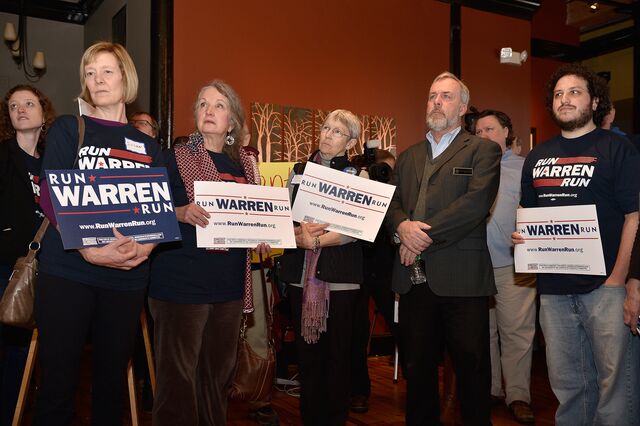 On Tuesday, the New York Times reported that Senator Elizabeth Warren and former Secretary of State Hillary Rodham Clinton had met for a private meeting in December at Whitehaven, the Clintons' home in Washington, D.C.  A Democratic source described the meeting as "cordial and productive." Little else was revealed.
Some might have interpreted the report as a sign that Clinton was taking Warren under her wing. But for Warren's most vocal supporters, the self-appointed army raging for economic populism, the tête-à-tête meant just about the opposite. Ilya Sheyman, the executive director of MoveOn.org Political Action, which with Democracy for America launched the project Run Warren Run, sounded emboldened. "It's more evidence that Sen. Warren and progressives are driving the conversation within the Democratic Party," he said, through a spokesman. "That's why we're eager for Elizabeth Warren to run for President, and any candidate would do well to speak to the issues she's led on -- like tackling income inequality, student debt, and taking on the big banks." 
Erica Sagrans, who works as campaign manager for another pro-Warren endeavor, Ready for Warren, used the occasion to stress Warren's momentum. "Secretary Clinton's meeting with Senator Warren indicates that she is among a growing number of Democratic leaders who admire Warren's willingness to stand up to the big banks and special interests," Sagrans said, before jumping to the punchline. "This is why we're calling on Warren to run for president in 2016."
All this, despite Warren's repeated statements that she will not run. And yet the progressive groups have blazed on, heads and signs held high, hoping that their champion is simply seeking certainty before launching her own presidential campaign, or playing hard to get. Run Warren Run even commissioned a (questionable) poll from the organization YouGov that showed that 98% of Iowa Democratic caucus-goers—virtually all of them—hope for a contested race, and that a forceful majority—82%—hope to see Warren in the game. They throw house parties and barbeques by the hundreds, where enlightened famous people like Chloe Sevigny, Kathleen Hanna, and the Beastie Boys's Adam Horovitz show up and clap.
They also tend to lean on holiday gimmickry. Valentine's Day involved dispatches of roses. Despite the federal holiday on Presidents Day, a new pro-Warren office pitched up shop in Hiawatha, Iowa, then proceeded to fill up with people. What better day to honor the woman these activists hope will be the next American president? The holiday brought roadside "honk and wave" in New Hampshire and elsewhere in Iowa, and, in Washington, D.C., a symbolic (but literal, and frigid) run from the U.S. Capitol to the White House. ("We ran from Sen. Warren's current office to her future office," Luisa Galvano, DC-organizer of the super PAC Ready for Warren, announced under winter gear.)
Even Karl Rove is feeding the Warren fire. In an interview Monday evening on Hugh Hewitt's radio show, the former Bush advisor said, "I think Elizabeth Warren's hard-left prescriptions on the economy sing to the heart of Democratic primary voters. So yeah, I think she could give her a run for her money." Rove acknowledged the power of the Clinton machine and wallet, but questioned what, exactly, Hillary stood for. "What's her message?" Rove asked, and mentioned that Clinton has tried to "borrow" from both Obama and Warren.
David Axelrod himself told Hewitt last week that he thinks Warren is "trying to influence the direction of the party, and you have more influence as a potential candidate than you do if you take yourself out. So she's allowing, she's sticking to this language of 'I'm not running for president,' and titillating people with it, because it gives her more leverage."
For pro-Warren groups, the cream rises. Tuesday morning, John Catsimatidis, a top Clinton donor, told Bloomberg TV that one of his staff members, an Iowa native, spoke recently with a friend who is the Democratic chairman of Iowa. He said, in Catsmatidis's summation, "If the election was held today, [our] lady friend from Massachusetts would beat Hillary."
For much of the 2008 Democratic presidential primary season,  Clinton seemed sure to be the name on the ticket, but Barack Obama, little-known not long before, swooped in with unlikely rhetoric of luminous bipartisanship, and won. As the 2016 election approaches, Clinton again is the presumptive frontrunner, but she knows better than to think herself immune to a new, populist voice.
According to the Times, in their December meeting, Clinton did not ask Warren for her endorsement. That day, it's likely, will come—but until then, Warren's got power. So do the grassroots groups that see the importance of a contested nomination, and trumpet Warren, whatever she says—there's some objectification, perhaps, but it goes in both directions. Clinton knows she'll have to follow through to get Warren's vote—and those of the liberals who cluster in her corner.
Before it's here, it's on the Bloomberg Terminal.
LEARN MORE