Pinterest Nixes Rand Paul's Fake Hillary Clinton Page
The bookmarking website removed a bogus page meant to mock the former secretary of state on Sunday night.
by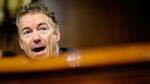 Not everyone appreciates political trolling, apparently. 
Pinterest deleted a page from its site Sunday night that was created by Rand Paul's communications operation and mocked Hillary Clinton. Paul's team had uploaded the fake page to coincide with Valentine's day, then directed the Kentucky Senator's supporters to it via his other social networking channels. 
Among the pinned items on the parody page were photos of Clinton posing with Muslims, as well as quotes poking fun at the former secretary of state's statements on the killing of Americans in the terrorist attack on the U.S. diplomatic compound in Benghazi, Libya. 
Pinterest confirmed to CNN that the page violated its terms of service which forbid users from activity with the intent to "impersonate or misrepresent your affiliation with any person or entity."
The pro-Clinton group Correct the Record lashed out at the fake page. Adrienne Watson, a spokeswoman for Correct the Record, called it "sexist," and said it "shows very little class." 
Many who followed Paul's links to the phony Pinterest page felt similarly. 
If, on the other hand, imitation is the sincerest form of flattery, Paul's trolling efforts might be likened to a heartwarming Valentine's Day card, but it's one no longer on display at Pinterest. 
Before it's here, it's on the Bloomberg Terminal.
LEARN MORE