Newsletter Brings Primary-State Front Pages to Political Insiders
With "Above the Fold Primary," a Florida Democratic operative looks to 2016.
by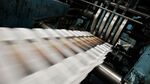 Who says print is dead? 
Above the Fold, an e-mail newsletter that keeps track of Florida newspaper front pages, on Sunday launched a new version highlighting print editions in the early primary states of Iowa, New Hampshire, South Carolina, and Nevada.  
Kevin Cate, a Florida-based public relations strategist who worked for President Barack Obama and former Florida Governor Charlie Crist, started the service in August 2013. It now has some 3,000 subscribers, Cate said in a phone interview. Since launching over the weekend, Above the Fold Primary has added about 350 new subscribers a day, he said.
Cate said the newsletter helps campaign operatives keep a sense of balance. Just because the news they are consuming is focused on the horse race doesn't mean the newspapers that voters read are necessarily obsessing over the same thing.
"To maintain perspective, it was incumbent that we consume the news the way that voters are consuming the news, as opposed to the way that insiders are consuming the news," Cate said.
On Tuesday morning, for example, the newsletter showed that both the New York Times and the Washington Post led with 2016 stories, while none of the papers in early-nominating states mentioned possible primary contenders. 
That insight is key to knowing the media climate in which voters go about their lives, he said. 
"What's on TV matters and what's on TV many times takes a cue from what's on the front page of the newspaper," Cate said.
Though Cate works for Democratic campaigns, he said his readership for the Florida newsletter leans more heavily Republican, as the party dominates the state's top elected offices.
Cate said his readership has received boosts from influential shout-outs on Twitter over the past couple of days. Former White House deputy chief of staff Jim Messina and Republican digital strategist Patrick Ruffini both tweeted links to the signup page to their tens of thousands of followers.
After those first primaries in early 2016, Cate said he will shift his focus to papers in other states ahead of their primaries and then swing states ahead of the general election. After the general election, the plan is to show what's on the front pages for around 25 national papers, he said. 
Cate's work was made a little more challenging Tuesday, since the Washington-based Newseum, which publishes front pages from newspapers around the country, closed due to snow. As Cate explains at the bottom of the newsletter, "We don't own these front pages. ... Most of these are hosted by the amazing team at Newseum. The rest are collected by hand."
In a nod to his partisan roots, he zings: "By tomorrow, they will disappear faster than Rick Perry's short term debate memory."
Before it's here, it's on the Bloomberg Terminal.
LEARN MORE