Chris Christie Tells New Hampshire Republicans He Is Who He Is
In a Presidents' Day speech in the Granite State, Christie takes aim at President Obama and Hillary Clinton.
by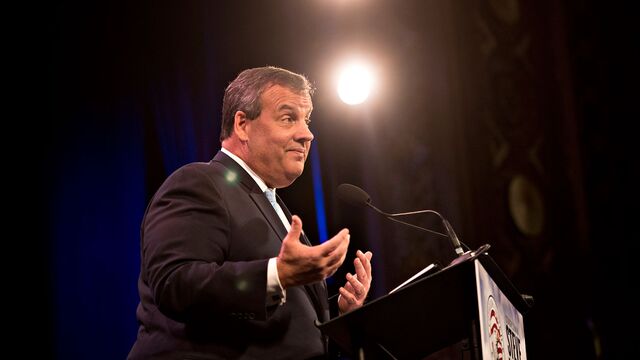 CONCORD, N.H.—New Jersey Governor Chris Christie knows better than to attempt an extreme makeover in his bid to become the Republican presidential nominee. 
Delivering a self-assured keynote address Monday at the Concord and Merrimack County Republican parties' annual Lincoln-Reagan dinner, Christie told an audience of more than 200 people that he wouldn't change who he was in order to get elected. 
"There's only one Chris Christie, everybody, and this is it," Christie said. 
Not shying away from the direct confrontations he has had with New Jersey residents, Christie even recommended that those in attendance seek out YouTube clips of the clashes. 
"There will be some times I will say things that will make you shake your heads," Christie quipped. "But what you'll never say is that I don't know who he is and I don't know what he believes, and I don't what he's willing to fight for and who he's willing to fight to get there."
Sticking on the topic of his brusque demeanor, which some of his GOP rivals have criticized, Christie said that his mother had taught him it was better to be respected than love, because love could grow out of respect. 
"She was talking to me about women, but it can apply just as much to politics," he said, before pivoting to a stern critique of both President Obama and Hillary Clinton, the Democratic frontrunner in the race to become the 45th commander-in-chief. 
"America has lost respect in the world," Christie argued. "Not only do our adversaries not fear us, but our friends are worried."
"I don't know," Christie added. "I almost feel bad for the president. He's like a man wandering around in a dark room, feeling around the wall for the light switch of leadership."
 The Presidents' Day speech sounded very much like that of a presidential candidate, especially when he criticized the Obama administration's response to ISIS and Clinton's claim that she had pressed the "reset button" on Russia.
When the speech was interrupted by a loud crash from the kitchen that sounded like 100 chicken dinners smashing to the ground Christie was able to show off his sense of humor. "That wasn't me," he said. "I swear."
Several minutes later, when a second kitchen mishap disturbed the speech, Christie got laughs by being quick on his feet. "I'm beginning to think it is me," he interjected. 
Asked what his first priority would be if elected president, Christie pointed to two issues: simplifying the tax code, and expanding America's energy independence. 
"We have the opportunity to make the 21st century the second American century," Christie argued. 
Some in the audience, however, wanted more specifics. Retired attorney Bob Heghmann said he liked Christie, but was ready to hear candidates flesh out their ideas. 
"We all know what the problems are," Heghmann said. "What I want to know is what you're going to do to solve them." 
While Heghmann said he preferred a governor like Christie to a senator when it came to the qualifications he was hoping for from the next president, he also stressed the need for clarity.
"You have to tell people what you are going to do," he said.
Bruce Perlo, the chair of the Grafton County Republican Party, also said Christie had the right résumé to be president. "I think governors are better because they've managed something," Perlo said.
Christie has recently been working to establish himself in New Hampshire, the state where the second contest in the Republican primary season will be held. According to a recent Bloomberg Politics/Saint Anselm poll, the New Jersey governor is in fourth place in the state, behind rivals Jeb Bush, Rand Paul, and Scott Walker. But since establishing his political action committee, Leadership Matters for America, in late January, Christie has hired Matt Mowers, the outgoing New Hampshire Republican State Committee executive director, and an insider who can help guide his campaign in the Granite State. 
There seemed to be little doubt in the room that Christie would soon declare himself a candidate for president, and he relayed a story about telling his kids he was heading to New Hampshire for the Presidents' Day speech. Upon hearing the news that her father was leaving on the trip, Christie said his 11-year-old daughter rolled her eyes and sighed: "Uh, the president thing."
Before it's here, it's on the Bloomberg Terminal.
LEARN MORE