This Week in Political Trolling: Ted Cruz and Rand Paul Keep it Sarcastic
A fake Hillary Clinton Pinterest account and a mock YouTube address by President Obama are the latest examples of Internet trolling.
by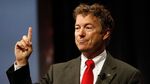 If political trolling is an art, Rand Paul may well be its Pablo Picasso. 
When it comes to the act of gleefully using the Internet to intentionally provoke or anger someone, Paul is second to none, and this week he proved that once again by going after Hillary Clinton by creating a mock Pinterest page for the former Secretary of State to coincide with Valentine's Day. 
The link Paul included with his tweet takes viewers to fake Pinterest page where Paul's Internet team derisively portrays Clinton in photos with Muslims, posing with losing candidates she endorsed in the 2014 midterm cycle, and with quotes and graphics meant to belittle Clinton regarding her statements on the terrorist attacks on Benghazi, Libya. 
Of course, Clinton is one of Paul's favorite targets in what has become a gold standard trolling operation, as was evidenced by his release in late January of a fictitious conversation between Jeb Bush and Clinton on Soundcloud.
While Paul's tactics have the potential to make a political attack go viral, they can also leave a bad taste in some voters' minds. 
While some might not consider trolling to be a very senatorial pursuit, Texas Senator Ted Cruz is also quite comfortable with the practice. On Friday, Cruz sent out a Tweet to his 403,000 followers that contained a mock weekly address from President Obama regarding one of Cruz's pet issues, his opposition to the FCC's proposed reclassification of the Internet as a public utility. 
As with Paul's forays into trolling Cruz's YouTube impersonation of Obama received its fair share of criticism, but some were impressed by the satirical approach. 
Before it's here, it's on the Bloomberg Terminal.
LEARN MORE