Boehner Says Democrats Should Be Blamed If Homeland Money Ends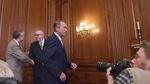 (Bloomberg) -- "It's up to Senate Democrats to get their act together," U.S. House Speaker John Boehner said on "Fox News Sunday" program in interview taped on Feb. 13.
* When asked if he was prepared to let funding lapse, Ohio
Republican said, "Certainly. The House has acted. We've
done our job." * NOTE: U.S. Department of Homeland Security faces shutdown of
non-essential operations if Congress doesn't reach agreement
before current funding ends Feb. 27 * NOTE: Senate Republicans have failed three times to advance
bill, which seeks to reverse President Obama's executive
orders on immigration policy as condition for funding dept;
Democrats have blocked measure, saying funding shouldn't be
held up over unrelated policy dispute
Story Link:NSN NJTRV76K50XU<GO>
For Related News and Information: First Word scrolling panel: FIRST<GO> First Word newswire: NH BFW<GO>
To contact the reporter on this story: David Lerman in Washington at +1-202-654-4341 or dlerman1@bloomberg.net To contact the editors responsible for this story: Andrea Snyder at +1-202-624-1831 or asnyder5@bloomberg.net Joe Sabo
Before it's here, it's on the Bloomberg Terminal.
LEARN MORE