With Kitzhaber Out, What's Next for Oregon?
The country's first openly bisexual governor, and more talk of clean energy controversies.
by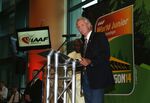 Oregon's embattled Democratic Governor John Kitzhaber announced Friday in a press release that he is resigning from office. The state's Democrats and Republicans have been calling for the governor to step down as questions over his fiancée Cylvia Hayes' green energy consulting business, and her role advising him on clean energy policy. Late last month Hayes admitted to failing to disclose $118,000 from energy groups, and the couple is facing an ethics probe over allegations that Hayes used her ties to the governor for personal gain.
Kitzhaber's decision to step down will be well received by state lawmakers, especially member of his own party, but that doesn't mean the story is over. His replacement, Secretary of State Kate Brown, will likely see her own past controversies brought to light, and Republican interest in clean energy—specifically the controversies and embarrassments it has caused for Democrats—is renewed.
Governor Kate Brown
Based on the line of succession laid out in Oregon's constitution, Secretary of State Kate Brown will take Kitzhaber's place until the 2016 election. Brown, 54, drew attention this week after her "bizarre and unprecedented," in her words, encounter with Kitzhaber this week. After asking to meet with her (presumably in preparation of his resignation) he said he wasn't resigning, then proceeded to discuss transition with her.
Brown entered Oregon politics in the 1990s and served in the state's House and Senate before being elected Secretary of State in 2008. She's now the state's second female governor, and probably the only openly bisexual governor in the country. 
For Brown, this likely accelerates her own career goals—she was expected to run for governor when the seat opened up in 2018—but it also brings her past controversies back into the spotlight. In January 2014, her office came under fire when a hacker breach went unnoticed for two weeks. Last month The Verge reported that Brown allowed Comcast—which had donated over $10,000 to her campaigns since 2008—to ghostwrite a letter in her name supporting their attempt to merge with Time Warner Cable.
Of course, Brown has a lot going for her too. Her controversies aren't as bad as her predecessor's, and she has a reputation for being "a collaborator who can muster bipartisan support," according to The Oregonian. Even then, as the Statesman Journal noted in December 2014, the state budget is relatively healthy and Democrats control the House and Senate. 
More headaches for Democrats
The problem for Democrats is that the Kitzhaber controversy revolves around green energy. Hayes admitted last month to receiving $118,000 in consulting fees for green energy groups while advising her fiancée on energy policy. This has been used to justify blocking environmental bills in the legislature and potentially to bring up past controversies about clean energy, lobbying and money.
The Oregonian reported this month that Democrats' effort to continue a program requiring reduced carbon intensity in fuel was threatened by a potential conflict of interest involving Hayes and her ties to a company pushing the bill. Republicans (who were already opposed to the bill) have argued that, given the Hayes connection, the Democrat-controlled legislature should stop working on the bill until the ethics investigation concludes. 
On a national level, Kellan Howell at the right-leaning The Washington Times argued that this "carries larger repercussions for national Democrats, who have worked hard to put to rest a controversy in President Obama's tenure over the failures of taxpayer-funded green energy companies such as Solyndra that had political ties to party bigwigs," and noted that Kitzhaber and Hayes had ties to billionaire environmentalist Tom Steyer. The argument being made is that clean energy lobbying is a way for Democrats to get rich. Whether or not Howell is right, Brown at least will think twice before doing anything involving green power.
Before it's here, it's on the Bloomberg Terminal.
LEARN MORE