Why Is Obama Whispering Sweet Nothings in Stanford's Ear?
Just in time for Valentine's Day, and his daughter's application.
by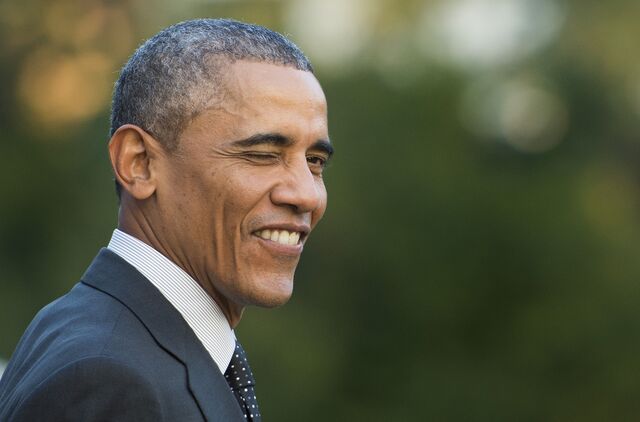 President Barack Obama has a teenage daughter who's thinking about going to Stanford University. As the leader of the free world delivered a speech at the storied Silicon Valley campus Friday, it was tough to tell whether he was trying to help her—or be her.
"I've got to admit," Obama told the crowd gathered on campus to hear him speak about cyber-security. "Like, I kind of want to go here." He was overheard telling business leaders at a roundtable lunch on campus after his speech, "I wanna go back to college."
Since his 2008 presidential campaign, Obama and his wife Michelle have worked to shield their daughters from publicity and prying eyes. Their media appearances as a family are few and carefully choreographed, and the White House press corps has, as a rule, respected Malia and her younger sister Sasha's need for privacy.
But the college applications process, which the Obamas have begun to talk about, is a story to which so many American parents can relate. And in the age of smart phones and Twitter, it's been impossible for Malia, 16, to stay entirely under the radar as she visits college campuses. She visited Stanford and Berkeley last year, and NYU and Columbia earlier this month. Video, blogs and tweets from observers followed.
Obama said he chose Stanford for Friday's speech because of the legendary role it has played in the tech industry. "Your graduates have gone on to help create and build thousands of companies that have shaped our digital society," he said. "What a magnificent cathedral that all of you have helped to build. We want to be a part of that."
But he wasn't done with his courtship ritual. He called Stanford "a place that made nerd cool" and joked about hearing that people on campus all ride bikes and hop into fountains. "I was trying to figure out why it is that a really nice place like this is wasted on young people who don't fully appreciate what you got," he said to laughs. "It's really nice. And everybody here is so friendly and smart and it's beautiful, and, what's there not to like?"
Kevin Xu, a former White House aide who left in 2013 and now attends Stanford Law, was brought back into the mix for a day to help corral the press. He said Stanford has been "beautiful" and "kind of feels like a resort" but "it's also a very intellectually stimulating environment." He added, for clarity, "It's really difficult." Xu said he didn't know Malia had been looking at the campus.  
Stanford is also two things: 1) Expensive. 2) One of the toughest admissions nuts to crack.
The president also noted how many of the important women in his life–National Security Adviser Susan Rice, Senior Adviser Valerie Jarrett and Commerce Secretary Penny Pritzker—had attended. "Let's face it," said Obama, a graduate of Columbia University and Harvard Law. "I like Stanford grads."
Before it's here, it's on the Bloomberg Terminal.
LEARN MORE