In San Francisco, Obama is Fundraising for His Successor, and His Legacy
Obama realizes that even his political afterlife needs to be funded.
by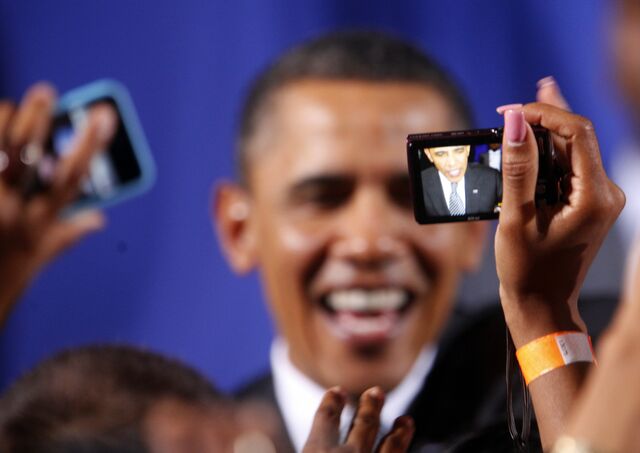 President Barack Obama has never pretended to love the kind of work involved in raising campaign cash. He's gracious enough to the wealthy and powerful donors who host lavish events where invited elites each pay up to the legal maximum of $32,400 for a photo, a meal, a closed-door Q. & A., and bragging rights. It's the rare occasion—say, that time at George Clooney's, or at that nightclub with Jay-Z and Bey—when Obama actually seems caught up in the moment.
Now that the president's done not only with his own campaigning but also with securing seats for other Democrats, there's even less obvious incentive to play the game.
And yet, once Obama, in California through Monday, rolls out of a cybersecurity summit in Palo Alto on Friday afternoon (and before he heads off to a Palm Springs golf weekend with friends for Presidents' Day) he'll dive headlong into his first fundraiser of the 2016 cycle for the Democratic National Committee.
The dinner in San Francisco at the home of tech investor Sandy Robertson and his wife Jeanne is expected to draw about 60 donors, each paying $10,000 or more. The money raised will go to the DNC coffers that support the party's eventual nominee to succeed Obama, be it Hillary Clinton, who has not yet announced a run, or someone else. Robertson, who declined a request for an interview prior to the event, is expected to be among the many California donors Clinton can count on assuming she does run. He co-hosted a fundraiser in 2013 for Ready for Hillary, one of the major groups supporting a Clinton run.
Ahead of Obama's arrival, there were suggestions that the DNC had some trouble luring donors to come and pay that kind of money just to see Obama. But John Burton, chairman of the California Democratic Party and a former congressman and state Senate president, maintains that even as donors in his state begin to think about the next presidential race, and, more immediately, the intra-party jockeying for the U.S. Senate race to succeed Barbara Boxer, Obama is still a potent fundraising force.
It's "very important" for Obama to remain engaged, Burton said, to ensure another Democrat succeeds him and to protect his legacy of policies, from the Affordable Care Act to efforts to combat income inequality.
"He's coming out here to raise money that will help strengthen the party going into another election year and be there for the party's nominee," Burton said. "He's the spokesman for the Democratic Party and whether the Republicans like it or not he's the spokesperson for the people of America."
There may be other benefits from the President's engagement. One California Democratic strategist who, sensitive about comparing Obama with the Clintons, asked not to be named, said that Obama is learning from Bill and Hillary how important it is to forge deep relationships outside of Washington while he's still in office, and to feed those relationships, because they may be the foundation for everything that he wants to do after he leaves the building in January 2017.
This goes to the inherent irony about fundraising when you're a president in the second half of your second term: While you need the money less, you need the validation more. Lame-duck presidents know what Obama might call that fierce urgency of fighting off their own irrelevance. In this battle, fundraising—along with the executive action on immigration, a new Cuba policy, and a provocative budget—is one of the President's weapons.
Before it's here, it's on the Bloomberg Terminal.
LEARN MORE