For GOP Governors, London Bridge Is Falling Down
The remains of three bumpy trips.
by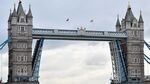 In 2012, David Cameron smack-talked Mitt Romney. Hours before the British prime minister, the head of the Conservative Party, was to welcome the former Massachusetts governor to 10 Downing Street—the special reception was all laid out, one thinks of scones and cucumber sandwiches—Romney told Brian Williams on NBC that the state of London's preparations for the Olympics was "disconcerting." Scoffing, Cameron retorted, "We are holding an Olympic Games in one of the busiest, most active, bustling cities in the world. Of course it's easier if you hold an Olympic Games in the middle of nowhere." The British tabloid the Sun slapped on Romney the headline "Mitt the Twit"; others called him a "wazzock" and a "party pooper." The Independent quoted the American track-and-field star Carl Lewis, a winner of ten Olympic medals: "I swear," Lewis said, "sometimes I think some Americans shouldn't leave the country."
And yet, and despite Romney's soft socking, they do. New Jersey Gov. Chris Christie, Louisiana Gov. Bobby Jindal, and Wisconsin Gov. Scott Walker all decided that London was a good campaign stop for the first weeks of 2015. At this time of year, Borough Market serves heavy winter chowder, and the Thames can look pretty icy from Tower Bridge, but to three leading Republicans, the temperature seemed right for showing foreign-policy prowess. As though a rite of passage, the governors have visited London in the past few weeks, one after the next. None have fared very well.
Bobby Jindal traveled to London toward the end of January, to deliver a speech at the Henry Jackson Society, a British think tank. In his remarks, not long after the Charlie Hebdo attacks in Paris, he spoke of "no-go zones," where sharia law, not the state, rules. David Cameron had recently characterized a commentator who spoke of such zones existing not just in the Parisian suburbs but in Birmingham, England, as "a complete idiot." But Jindal defended his remarks. ("I knew that by speaking the truth we were going to make people upset," he told CNN, from London.) The Daily Mail summarized the debacle, in a headline: "US presidential hopeful Bobby Jindal claims there are 'no-go zones' for non-Muslims in British cities—just a week after Fox News apologised for saying the same thing."
Chris Christie turned up in London right after, in time for the Super Bowl. (He'd be sitting in no special stadium box!) And yet his visit went worse: it was marked by cancelled press availabilities, fat jokes, and Brits who failed to recognize him. A young staffer for a Conservative Member of Parliament told Business Insider, "I first heard of him because he'd been to over 100 Bruce Springsteen concerts. Our views of the Republican Party here in Britain aren't high, even among the conservatives." Then there were Christie's strangely ambiguous comments on the measles outbreak, which angered many who stress the importance of vaccines, and cause him to clarify his position.
All that, and an exposé on his penchant for luxury gifts in the New York Times, led to a taste of the confrontational Christie. Departing for Shakespeare's Globe Theatre, he snapped, "Is there something you don't understand about 'no questions'?" The Daily Mail employed its trademark use of capital letters to make its case: Chris Christie clams up and CANCELS three press conferences on final day of disastrous UK trip… A testy Chistie badgered reporters… SHAKESPEARE NEVER GOT THE MEASLES." Ben Ray of the American Bridge PAC tweeted that Christie was "giving Mitt Romney a run for his money for "worst presidential wanna-be trip abroad of all time."

And this week, Scott Walker crossed the Atlantic, attentive not to make the same mistakes. It was a trade mission, a business trip, his people said. He had recently said on Wisconsin radio that he'd rather be labeled "bland and uncharismatic" than "dumb or ignorant or corrupt." With that in mind, he, diplomatically, refused to remark on Obama's policy in Ukraine or against ISIS, saying, "I just don't think it's wise to undermine the president of your own country" when traveling abroad. He "won't take questions from reporters during London trip" at all, the Daily Mail noted. And yet, at an appearance at the Chatham House think tank, he said he would "punt" on his belief in evolution. "That's a question a politician shouldn't be involved in one way or the other." He simply said that "faith and science are compatible." What does he mean? The remark got plenty of attention back home.
Back in December 2013, Marco Rubio spoke at Chatham House as well, and in October 2014, Rick Perry addressed the Royal United Services Institute in London—both incidents passed without major feathers ruffed. But in 2015, as the next presidential election approaches, London seems to be less friendly to Republican pols, possibly even curse-prone.
In fact, the mayor of London, Boris Johnson, is in the United States this week, and making his thoughts clear. After stopping by the Bloomberg office, Johnson traveled to Washington, D.C. At an event hosted by Politico, he lambasted Jindal for his comments last month in London, stating that he would be "more than happy to personally escort" Jindal to "any area of London he thinks is a no-go zone." In Johnson's words, Jindal needs a "gentle education." It's "complete nonsense."
This is the mayor who, when Romney was in town in 2012, was even sharper than the prime minister in responding to Romney's disparaging comments. Speaking at a rally of perhaps 60,000 people before the Olympics, Johnson said, "There are some people who are coming from around the world who don't yet know about all the preparations we've done to get London ready in the last seven years. I heard there's a guy called Mitt Romney who wants to know whether we're ready. Are we ready? Yes we are!" Then he led them all in a chant of Obama's campaign slogan: "Yes We Can!" And he's a conservative.
For a party inclined to cite the Boston Tea Party in its galvanizing rhetoric, it's a wonder Great Britain seems an appealing destination at all. When the country's last Republican president, George W. Bush, was considering candidacy, he himself knew voters might wonder about his limited experience abroad. (They did, of course, about Obama.) In 1998, as governor of Texas, Bush joined a group of governors in Cairo, and then flew off to Israel. Then-foreign minister Ariel Sharon gave him a helicopter tour. It boosted his bona fides, and helped ally him with a future prime minister. So why not skip London entirely, and try the Holy Land? As Christie knows, it's possible for Republican presidential hopefuls to get a free ride.
Before it's here, it's on the Bloomberg Terminal.
LEARN MORE