Everything You Need to Know About John Kasich This Week
He's heading to South Carolina, and he could shake up the Republican field, but who is John Kasich?
by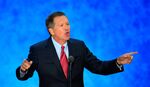 Well, who is he? Since 2011, he's been the governor of Ohio. Before that, he was also a congressman from 1983 to 2001. He's a Republican.
Rhymes with... Lasik.
Cool. So why is everyone talking about him? Next week, he's heading to South Carolina, his first trip to a key early primary state for Republicans.
Ahh... so he's running for president? He's getting advice on it, according to the Cleveland Plain Dealer. He says he's "not ready to decide" if he'd run again, having spent a few months trying out the 2000 field but exiting months before the primaries.
Mm-hmm. Then why does he say he's going? To drum up support for a balanced budget amendment to the Constitution. Incidentally, that would help the former chairman of the House Budget Committee further show off his conservative fiscal credentials.
OK, another Republican budget hawk. What else does he have going for him? He's quite popular in the Buckeye State, having won 64 percent of the vote in 2014, and every Republican who has gone to the White House has needed to win the state. According to the Plain Dealer, he's also being advised by former RNC chair Ed Gillespie and former New Hampshire Senator John Sununu, who is a bit of a kingmaker in his own key primary state. The paper also says he's met with at least one key McCain donor.
Could he attract swing voters in other states? Maybe. He's shown willingness to be pragmatic: He accepted the Obamacare's Medicaid expansion and recently proposed taxes on cigarettes, sales, and fracking to offset income tax cuts. For what it's worth, the Washington Post also said he has a "sunny, populist persona."
So what's the catch? The Obamacare thing burned bridges with the base, as has his defense of the Common Core curriculum standards. He's also not as well known as an establishment candidate like Jeb Bush or as talented at grabbing national headlines as a fiery candidate like Rand Paul.
How's he polling? At 2 percent in New Hampshire, at 1 percent in Iowa.
Before it's here, it's on the Bloomberg Terminal.
LEARN MORE