Scott Walker Throws Down a Cheese Challenge to the World
The Wisconsin governor found a topic he was willing to discuss in London.
by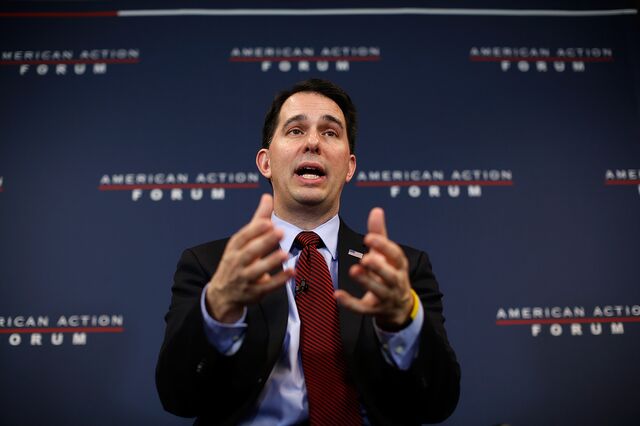 He won't talk about evolution, or vaccination, or foreign policy, but Wisconsin Governor Scott Walker is more than happy to talk about cheese. In fact, in his remarks at London's Chatham House on Wednesday, Walker put the cheese world on notice. 
"Let me put it this way," a boastful Walker told his audience, "if my state was a country it would rank fourth in the world for cheese production, just behind the United States, France and Germany, and just above Italy."
The London sojourn was, like those of Louisiana Governor Bobby Jindal and New Jersey Governor Chris Christie, a way to show off Walker's experience and comfort level with foreign affairs. Yet his only public appearance, with its almost singular focus on cheese, came off less as a diplomatic good will tour than a self-involved throw down. 
"We believe we make it better than anyone in the world, but we do not begrudge anyone else trying to make a better cheese," Walker continued. "In other words, we say let the best cheese win."
While the Badger State has produced its share of gold medal cheeses over the years, on Wednesday Walker spoke glowingly about his state's official style, Colby, a mild, semi-hard variety that was introduced in Wisconsin in the late 1800s and was, ironically, one of the key components of Government Cheese. 
As for letting the best cheese win, at the 2014 World Cheese Championship contest in Madison, a Swiss cheese took first prize, while an American cheese (which includes those from Wisconsin) hasn't won since 1988. 
In case you were wondering, Walker let it be known in a 2012 interview that he's really more of a cheddar man (cheese comments begin at the 3:00 mark). 
Before it's here, it's on the Bloomberg Terminal.
LEARN MORE