Just How Far Have Americans Come On Gay Marriage?
The numbers behind what Justice Ruth Bader Ginsburg calls an "enormous" change.
by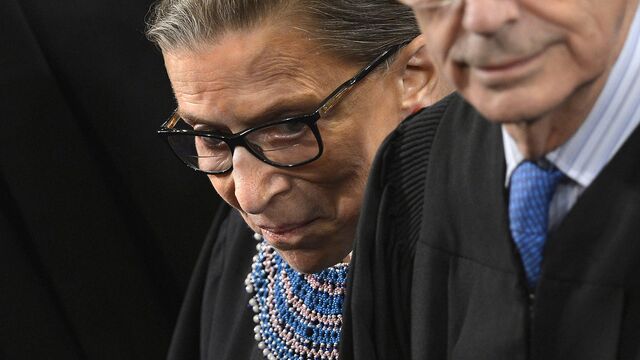 When Supreme Court Justice Ruth Bader Ginsburg told Bloomberg in an interview Wednesday that it "would not take a large adjustment" for Americans to accept a ruling that made marriage a constitutional right for gays and lesbians, she was speaking as the feisty grande dame of the court's liberal wing. But she might as well have been announcing poll results.
"The change in people's attitudes on that issue has been enormous," Ginsburg said, and indeed it has. According to Gallup, as of May 2014, 55 percent of Americans believe marriages between same-sex couples should be recognized by law in the same manner as traditional marriages (the most recent data available). Among those age 18 to 29, support for recognizing gay marriages reached 78 percent last year.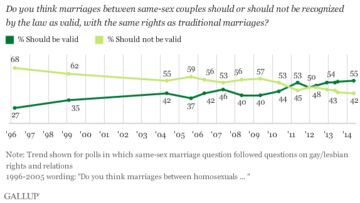 That's a striking change from the era when Ginsburg, 81, ascended to the court in 1993. When the Defense of Marriage Act became law in 1996, allowing states to deny recognition to same-sex marriages performed in other states, Gallup asked a similar question. Just 27 percent of Americans said marriages between gays and lesbians should be valid. Ten years later, support had soared to 42 percent, but a majority of Americans still opposed such marriages.
By 2013, when Ginsburg joined a majority of justices to strike down DOMA, support for same-sex marriage had risen above the halfway mark. Today, same-sex marriages are legal in 37 states (Alabama became the latest this week, over the protests of the state Supreme Court chief justice). The U.S. Supreme Court could decide to make marriages legal nationwide in a decision expected this summer.
The oldest sitting justice, she ascribed the change to the increasing visibility of gays and lesbians.
"In recent years, people have said, 'This is the way I am,'" she said. "And others looked around, and we discovered it's our next-door neighbor—we're very fond of them. Or it's our child's best friend, or even our child. I think that as more and more people came out and said that 'this is who I am,' the rest of us recognized that they are one of us."
Read more from Ginsburg's interview here.
Before it's here, it's on the Bloomberg Terminal.
LEARN MORE