James Carville Thinks Mitt Romney May Jump Back In
"If Jeb Bush loses New Hampshire, they'll get Mitt Romney back in the race," the Democratic campaign guru says.
by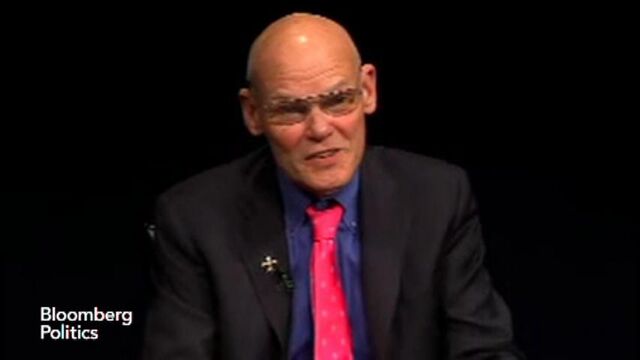 Mitt Romney may not have quit for good if Republicans think Jeb Bush can't finish the job in 2016. That was the prediction from Democratic campaign guru James Carville at an event celebrating the 100th anniversary of the New Hampshire primary on Wednesday.
"If Jeb Bush loses New Hampshire, they'll get Mitt Romney back in the race," said Carville, who managed Bill Clinton's 1992 campaign. Clinton that year became the first modern president not to win the Granite State primary.
Carville, a Louisiana native nicknamed "the rajin' Cajun," was typically impish during the panel at Washington's Newseum, which was co-sponsored by Bloomberg Politics and also included Arizona Senator John McCain, New Hampshire Senator Jeanne Shaheen, and others.
In between tales of his time in New Hampshire with Clinton, Carville joked that Secretary of State John Kerry had "negotiated a ceasefire" between PACs loyal to Hillary Clinton and mused that the state's fondness for combat veterans, including McCain, who twice won the primary there, might qualify Brian Williams, who has been suspended from hosting NBC's Nightly News over questions about his Iraq War stories.
When Carville turned to recent polls showing Bush trailing in Iowa and only narrowly leading in New Hampshire, he said the former Florida governor could be in big trouble and might provide an opening for Romney, who ran for president twice and recently said he wouldn't try again in 2016.
"Jeb Bush has to win New Hampshire," Carville said. "It's a must-win for him because he will lose Iowa. You've got to win one of them, particularly if [you're] considered to be a front-runner."
Before it's here, it's on the Bloomberg Terminal.
LEARN MORE