In Iowa, Biden Warns Democrats Against Running Away from Obama's Accomplishments
The Vice President said that those in his party who were considering running for president should stick with "what works."
undefined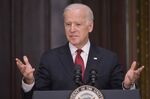 From the Des Moines Register: 
His voice soft and earnest, Vice President Joe Biden pleaded Thursday for future leaders to not undo "all of our hard work," referring to what he and the president have done since they took over the White House in 2009.

Without naming the most likely Democratic presidential nominee, Hillary Clinton, he said he has a message for all Democratic candidates.

"Run, yes, run—on what we have done," Biden said in Iowa. "Only what we have done. Stand for what we have done. Acknowledge what we have done. And be judged on what we have done, if we have any chance for resurgence—continued resurgence—in 2016."

He added: "Some say that would amount to a third term of the president. I call it sticking with what works."
Read the full story here. 
Before it's here, it's on the Bloomberg Terminal.
LEARN MORE