Brooklyn, Which is Winning at Everything, Loses One
by and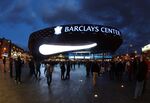 You can't win 'em all. 
The news that Brooklyn, N.Y., had lost out to Philadelphia, Penn., in its bid to host the 2016 Democratic convention was met with a collective shrug by residents of the red-hot, trendy borough on Thursday. 
"I had no idea Brooklyn was even in the running," Robert Wnorowski, who works at Juice Press in Williamsburg and lives in the neighborhood, said of competition to land the political convention.
Lisa Barr, a Clinton Hill resident, was relieved to learn the convention will be held elsewhere. "New York needs to focus on New York right now," she said, noting that an event of that scale would cause a disruption. "Enough with the Barclays Center already."
With non-stop cultural and sporting events already packing the Barclays Center, real estate prices at record highs, businesses including artisanal pickle shops flocking to the borough, and a ban on new film production on its over-exposed streets, Brooklyn has, for the past few years, been basking in its status as the New York brand of choice. Reports that Hillary Clinton is seeking office space in Brooklyn as the headquarters for her as-yet unannounced presidential campaign has only further solidified its standing as the place to be. 
But the Democratic National Committee opted for the City of Brotherly Love instead, leaving New York Mayor Bill de Blasio to try to refute the notion that Brooklyn residents were actually relieved to have been passed over. 
"The response I've gotten was incredibly energetic. I really heard tremendous enthusiasm.'' de Blasio said at a news conference Thursday. 
Liza Fenster, a Williamsburg resident, said she was unaware which cities were in the running to host the convention, which will be held the week of July 25. "We're no longer concerned with keeping up with the Joneses," she said, adding that she'd rather see a focus on tackling local issues.
Lauren Gallagher, a Greenpoint resident, said a busy schedule is part of the reason she's been unaware of the DNC's decision. "Unlike the marathon or a music festival, the convention isn't an event most people would be keeping on their radar," she said. While the convention may have helped the area economically, Gallagher said disillusionment with politics and the Obama administration may contribute to apathy among younger residents.
Meanwhile, Barr said, Philadelphia "could use the boost to their economy." While New York would have "put on a good show" for Hillary Clinton, Barr was confident that Clinton would be we'll-received regardless. "If she should become the nominee, she won't forget New York," Barr said.
Rebecca Fitting, an owner at Greenlight Bookstore, supported New York's bid because it would have helped her store, which is located blocks away from the Barclays Center.
"But it would have been speaking to the choir," she said, adding that the perception of New York is already elitist and liberal. "They have the rest of the country to think about," Fitting added.


—Martin Z. Braun contributed to this article. 
Before it's here, it's on the Bloomberg Terminal.
LEARN MORE