Jon Stewart Had Been Telegraphing His Comedy Central Exit for Some Time
The fake news anchor will leave his post at "The Daily Show" in 2015.
by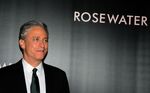 For fake news, it is the end of an era, but one that Jon Stewart knew was fast approaching. 
Stewart's decision to step down as the host of The Daily Show was announced Tuesday in a statement from Comedy Central President Michele Ganeless. 
"For the better part of the last two decades, I have had the incredible honor and privilege of working with Jon Stewart," Ganeless said. "His comedic brilliance is second to none. Jon has been at the heart of Comedy Central, championing and nurturing the best talent in the industry, in front of and behind the camera. Through his unique voice and vision, The Daily Show has become a cultural touchstone for millions of fans and an unparalleled platform for political comedy that will endure for years to come. Jon will remain at the helm of The Daily Show until later this year. He is a comic genius, generous with his time and talent, and will always be a part of the Comedy Central family."
For those paying attention to the changes at Comedy Central—from the end of The Colbert Report to the spin off of John Oliver's own HBO version of satirical news—there was ample evidence that The Daily Show empire was in the midst of undergoing a metamorphosis. Stewart's foray into film directing proved to be the real catalyst for the comedian to contemplate a new career direction. In a November interview with The Daily Beast, Stewart was asked whether it was hard to leave The Daily Show for three months to direct Rosewater.
Let me think…. No! I've got a great group of people there, and I knew John [Oliver] would be flawless—his show is so great now, too—so I was never left with any trepidation about it of "Oh no, what will happen?" I knew. So, more or less, it was a gift that they gave.
While Stewart said he did not view making films as a wholly different endeavor from crafting fake news, it was clear from his interview that it had motivated him. 
Well, I just view it as filmmaking, and not a separate profession from what I do onThe Daily Show. I just hope I'll continue to do work that lights a fire underneath me a little bit and gets me excited.
In the end, with his contract at Comedy Central set to expire this year, Stewart took stock of all that he had accomplished with the Daily Show, and decided that he, like Colbert, Steve Carrell, Ed Helms, Oliver, Rob Corddry, Asiv Mandvi, Rob Riggle and all the other talented actors who had gotten their start on the show, was ready to follow another opportunity. Given the show's 15 Emmy Awards, and 50 nominations, as well as the fact that Stewart had held the job since 1999, there's more than enough reason to say he's earned it. 
From Stewart's first clip, it was clear he was a natural in the fake news anchor seat.
But as he put it nearly 15 years later to The Daily Beast, Stewart reached the point where he was able to gain perspective on when it was time to move on. 
It's so hard to think about it in the crucible of finishing the movie up and everything else. It would be like making a decision about whether or not to keep exercising at mile 24 of a marathon. So, I'm gonna try and gain some distance and perspective so that when I make the decision, it's not when my calves are cramping.
Before it's here, it's on the Bloomberg Terminal.
LEARN MORE