New Hampshire Voters Love Their Free-Form Primary
Majorities of primary voters want to keep it so that independents can vote in either contest, according to the Bloomberg Politics/Saint Anselm New Hampshire poll.
by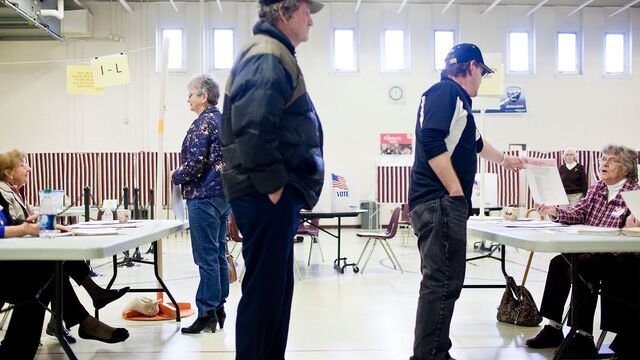 New Hampshire primary voters overwhelmingly want to keep their nominating contests just the way they are, according to a new Bloomberg Politics/Saint Anselm New Hampshire poll.
Sixty-seven percent of Republican primary voters and 80 percent of Democratic primary voters in the early-primary state say they want to continue with the current system, in which primaries are open to voters who aren't affiliated with either party, or who temporarily align with the opposite party just to participate on Election Day. Fewer than a quarter of voters in either party want to change the process, according to the poll.
"It sounds like equality to me," said Patricia Palmer, a 70-year-old Republican retiree from Belmont, N.H., who was interviewed for the poll. "If [undeclared voters] study all the different people, they may like the slant on one and not the other...so I think they should be able to do it."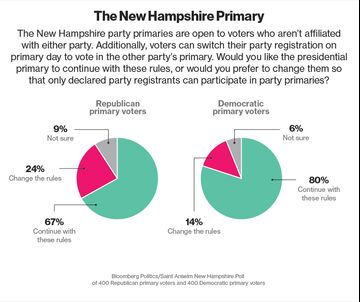 Here's how it works. Independent New Hampshire voters—who are "undeclared" in Granite State parlance—don't have to skip primary season, as they might in states where the parties only permit their own registered voters to vote in their primaries, and changing registration takes time.
Instead, on primary day, so-called undeclareds can just choose a party for a few minutes, vote, and usually switch back to undeclared right then and there. It's a decades-old privilege that party-registered voters don't have, which helps explain why more than 40 percent of the state's voters haven't bothered to call themselves Republican or Democrat even when they have strong leanings. As a result, the New Hampshire primary can produce a big win for an unexpected candidate with broad appeal.
It's that ethos—the primary structure rewards engagement and independence while cutting down on the power of the national parties—that makes it popular, as much with residents in the "live free or die" state as with candidates who want to show off their outreach power and politics-watchers who want an early peek at the general election.
Not that the New Hampshire primary is always a bellwether. Senator John McCain famously concentrated on the state in 2000, beating the more conservative then-Texas Governor George W. Bush in the primary but still failing to win the nomination. Then-Senator Hillary Clinton won the Democratic primary in 2008 before falling to colleague Barack Obama.
The poll was conducted by Washington-based Purple Insights from Jan. 31-Feb. 5. The pollsters surveyed 400 Republican primary voters and 400 Democratic primary voters, with a margin of error of plus or minus 4.9 percentage points.
Before it's here, it's on the Bloomberg Terminal.
LEARN MORE